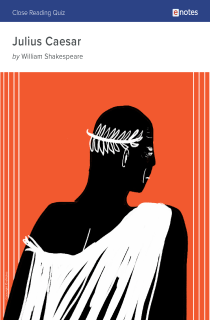 Julius Caesar Close Reading Quiz
*This download is only available with the eNotes Teacher's Subscription
Purchase a Subscription






47 pages
Language Arts,
Literature
For:
Grade 9
Grade 10
Grade 11
Grade 12
Excerpt From This Document
Read these passages from act II of Julius Caesar, and then answer the question that follows each passage. Refer to the passage in answering the question. Circle the correct answer to each question. 
3) BRUTUS:
Give me your hands all over, one by one.
CASSIUS:
And let us swear our resolution.
After speaking privately with Cassius, why does Brutus shake hands with each of the conspirators?
He wants to assure them that he will not betray their plans to kill Caesar.
He doesn't want them to know that he distrusts them.
He has joined the conspiracy and is now one of them.
His respect for them has grown since speaking with Cassius.
4) CASSIUS:
And let us swear our resolution.
BRUTUS:
No, not an oath. If not the face of men,
The sufferance of our souls, the time's abuse— (120)
If these be motives weak, break off betimes,
And every man hence to his idle bed;
So let high-sighted tyranny range on
Till each man drop by lottery.
Which of these is not one of the reasons Brutus rejects the idea of taking an oath before they begin to plot Caesar's assassination?
He believes their cause, not an oath, will inspire them to carry through with their plans.
He believes they can trust each other without taking an oath.
He believes their cause is virtuous and to swear an oath suggests that it is not.
He believes that oaths should be reserved for matters of religion, not government.
About this Document
Our eNotes Close Reading Quizzes have been designed to provide students with more than a simple review of the text. Each multiple-choice question corresponds to a particular selection from the text, promoting opportunities for developing and testing close-reading, critical-thinking, and literary-analysis skills. Each quiz contains the following components:
A series of multiple choice questions with accompanying text
Several short answer questions for extended, written answers
A comprehensive answer key for both sections
In completing these quizzes, students will be able to demonstrate their ability to close read, think critically, and comprehend general and nuanced elements of the text.