John Milton Biography
John Milton lost paradise, but in doing so he gained worldwide fame and influenced generations of writers. Though he died more than a hundred years before its inception, John Milton is considered one of the forefathers of the Romantic period. His seminal work, the epic poem Paradise Lost, influenced Romantic and Gothic writers such as Mary Shelley, whose novel Frankenstein even features a quote from Milton's masterpiece. Throughout his life, he had strong opinions about government, religion, education, and society, and his pamphlet campaigns on these matters led to his incarceration and nearly cost him his life. Though Paradise Lost is a reflection of the failure of the Commonwealth period that Milton supported so ardently, it succeeded in catalyzing two centuries of English poetry.
Facts and Trivia
Early in his career, Milton wrote court masques, which were short, musical, and dramatic interludes that often featured performances by royalty and members of the court.
The famously contrary Milton was abandoned by his wife just a few months after their marriage. Shortly thereafter, he wrote a treatise in support of divorce.
Milton was much maligned for his Republican status. He supported Oliver Cromwell during the interregnum period and defended the execution of Charles I.
Milton went blind due to glaucoma and for the last two decades of his life had to write all of his works by dictation. In the 1920s, Helen Keller named an interfaith society for the blind after him.
Though Paradise Lost earned Milton his reputation in posterity, it is actually a two-part work. Milton wrote a sequel, Paradise Regained, shortly before his death.
Biography
(History of the World: The 17th and 18th Centuries)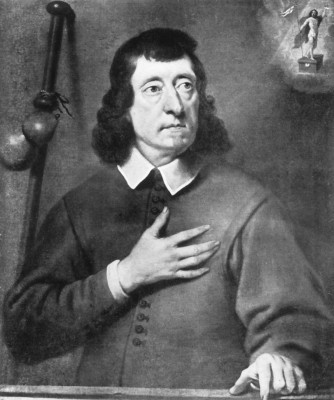 Article abstract: An important writer of revolutionary prose during the English Commonwealth, Milton is also England's greatest heroic poet.
Early Life
John Milton was born on December 9, 1608, on Bread Street near St. Paul's Cathedral in London. His father, also named John Milton, had come to London a decade earlier following a conflict over religion with his staunchly Catholic father, Richard Milton. The elder John Milton achieved sufficient success as a scrivener—a combination of legal adviser, notary, and financial broker—to provide well for his wife Sara Jeffrey Milton, and their children, John, Anne, and Christopher. Their first child had died at birth. The younger John was provided with a tutor, Thomas Young, a Scottish Presbyterian cleric with whom Milton would correspond for many years and with whom he would find himself allied against the bishops during the early years of the Commonwealth. When Young left London, Milton was enrolled in St. Paul's School in 1620, and later in Christ's College, Cambridge, in 1625. He placed fourth out of 259 candidates for the bachelor's degree in 1625 and was awarded his M.A. cum laude in 1632. He declined to join the clergy, a career for which his education had prepared him, in part because he was increasingly opposed to the governance and ceremonies of the Anglican Church, as they constrained the liberty of the individual conscience, and in part because he was increasingly committed to the vocation of poetry.
Milton is regarded as the greatest English epic poet and as second only to the greatest dramatic poet, William Shakespeare. England's foremost poets both transformed the literary conventions of the age, and though their lives overlap in time, they differ in many crucial ways. Of Shakespeare little is known, but of Milton little is unknown. Details of his appearance and personality—medium height, auburn hair, delicate, almost feminine features, a cheerful egotist, a ladies' man by the age of seventeen, popular with his schoolmates, and a scathing wit—and his daily work habits, education, religious and political thought, employment, health, family fortunes, travels, and friendships, are all voluminously recorded in his own writing and in letters and biographies written...
(The entire section is 4,081 words.)