John Keats Biography
John Keats was marked by death. His father died when Keats was nine, his mother died when he was fifteen, his younger brother died, and then Keats himself died of tuberculosis at twenty-six. And yet John Keats, in those short troubled years of his life, wrote poetry that continues to dazzle readers and scholars of today. During his last year, which Keats referred to as his posthumous (after death) life, he wrote poems focused on the topic of death and decay. He also created a philosophy, which he called Negative Capability, which might have arisen because of the prominence of death in his life. Keats believed that nothing could be resolved and that mystery had to be accepted. Two of his greatest poems are "Ode on a Grecian Urn" and "La Belle Dame Sans Merci."
Facts and Trivia
Keats was far from a big man in physical stature. He stood barely five feet tall.
Keats was a surgeon before he was a poet.
Keats was engaged to be married to Fanny Brawne. The relationship broke apart suddenly without explanation, but not before the correspondence between Keats and his betrothed was leaked to the public and caused quite a scandal for their sexuality. Before Keats died, he ordered that the letters be burned.
Keats wrote poetry for only five of his twenty-six years. His greatest poems were all written between his twenty-third and twenty-fourth years.
Although the famed poet T. S. Eliot found little merit in Keats' work, Eliot did pronounce Keats' letters the best any poet has ever written.
Biography
(History of the World: The 19th Century)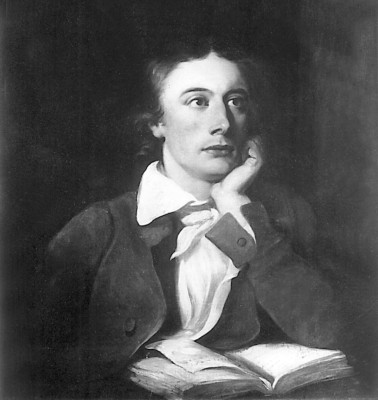 Article abstract: Keats, whose works explore the significance of beauty, joy, and imagination in a world of suffering and death, was one of the great poets of the Romantic era and is generally acknowledged to be among the finest writers of personal correspondence in English.
Early Life
John Keats, the eldest child of Thomas Keats and the former Frances Jennings, was born on October 31, 1795, in the living quarters of the family business, the Swan and Hoop Stables, in London, England. He had three brothers, George, Thomas, and Edward (who died in childhood), and a sister, Frances Mary. By all accounts, the family was lively and affectionate, and John's earliest years were probably happy. Unfortunately, the Keats family fortunes received a disastrous shock with the death of John's father following a riding accident in April of 1804. John's mother, in desperate haste, married an unpropertied bank clerk, William Rawlings, on June 27, 1804, and left him soon thereafter, thus forfeiting everything she had inherited from her first husband.
The children had moved into the home of their grandparents, John and Alice Jennings, even before this second marriage, and it was there that their mother ultimately rejoined them. She lived on only until March of 1810, succumbing to what was almost certainly tuberculosis, the disease which would eventually kill both young Thomas and her favorite son, John. John is reported to have nursed her through some of the worst stages of her illness, thereby getting a foretaste of what he himself would experience a decade later. Even before this, on March 8, 1805, the grandfather had died, leaving a will which provided fifty pounds annually for his daughter Frances and lump sums of 250 pounds plus interest for each of her children when they came of age, none of which was paid out during the poet's lifetime. Additional money, placed as a trusteeship in the hands of Richard Abbey by Alice Jennings several years before her death in December of 1814, was mishandled, perhaps criminally, and the poet spent much of his life on the brink of poverty, partially because his obsession with poetry brought him little income but also because Abbey, his legal guardian, gave him only a portion of the money which was rightfully his. Despite the various deaths and the family's financial problems, the Keats siblings remained close, maintaining their affectionate relationship through...
(The entire section is 2,905 words.)