Other literary forms
(British and Irish Poetry, Revised Edition)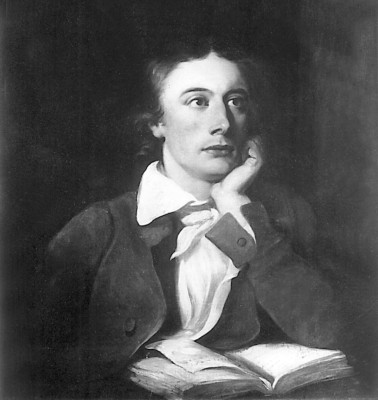 In The Use of Poetry (1933), T. S. Eliot referred to the letters of John Keats (keets) as "the most notable and the most important ever written by any English poet," primarily because "there is hardly one statement of Keats about poetry, which . . . will not be found to be true." The letters also offer an important gloss on specific poems and have thus become important for understanding Keats. Besides many passing comments of brilliance, the central concept of the letters is "negative capability." As defined by Keats, it is the capability to remain "in uncertainties, Mysteries, doubts, without any irritable reaching after fact & reason," which implies a disinterestedness that permits even competing ideas full play to reach their potential. In his letters, Keats often carried an idea to its extreme with extraordinary intellectual flexibility; another day, its opposite will surface to be worked out, as all things "end in speculation." The concept is also taken to include Keats's understanding of the poetical character, or the ability to surrender one's personal self to create characters and objects with independent life. Keats believed that the artist's first responsibility was to create beauty, which implies that the artist's personally held ideas and beliefs should be temporarily suspended or treated only partially so as to realize fully the work's aesthetic potential. Through the use of sympathetic imagination, Keats attempted to become the thing he was creating, to intensely identify with its life, not to find his personal life reflected in it. The standard edition of Keats's letters is The Letters of John Keats, 1814-1821 (2 volumes; 1958, Hyder Edward Rollins, editor). Text citations are to that edition.
Achievements
(British and Irish Poetry, Revised Edition)
Without being facetious, one could identify John Keats's greatest achievement as becoming one of the greatest poets of the English language in twenty-five years, three months, and twenty-three days of life, for Keats died before the age of twenty-six. Douglas Bush has said that no other English poet would rank as high as Keats if he had died as young—not William Shakespeare, John Milton, or Keats's greatest contemporary, William Wordsworth. Whereas other poets, especially his Romantic contemporaries, have gone in and out of critical fashion, Keats's reputation has endured since shortly after his death.
Keats followed the Shakespearean model of impersonality in art; that is, the surrendering of self to the fullest development of character and object, and it is this impersonality, coupled with intensity, that makes his poetry readily accessible to a wide range of modern readers. The reader does not have to re-create Keats's time, empathize with Romantic norms and beliefs, or identify with the poet's unique biographical experiences to appreciate his poetry fully. Keats is sane, honest, and open; his art is varied, intense, and rich in texture and experience. As he said of his poetic model, Shakespeare, Keats was as little of an egotist as it was possible to be, in the Romantic period, at least, in the creation of art.
Discussion Topics
(Masterpieces of World Literature, Critical Edition)
To what extent does John Keats's concept of Negative Capability contradict the notion of lyric poetry as an expression of personal feelings?
How does Keats alter the Greek legend of Diana's love for Endymion?
Comment on Keats's letters as works of art.
Explain how Keats makes a Grecian urn vital to the reader.
Considering Keats and also some of his contemporaries, is it reasonable to regard 1819 as the most important year in English poetry?
Contrast the imagery of Keats's "To Autumn" and Percy Bysshe Shelley's "Ode to the West Wind."
How important for Keats's poetry was his medical training?
Bibliography
(British and Irish Poetry, Revised Edition)
(The entire section is 1,047 words.)