Biography
(History of the World: The 19th Century)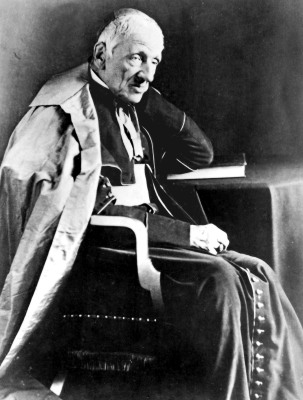 Article abstract: A leading figure in the Oxford Movement, which brought religious issues to the forefront of the Victorian consciousness, Newman, after his conversion to Catholicism, became the leading Catholic figure in Great Britain, writing eloquently about religion and education and influencing the course of theological and administrative practices within the Catholic church in Great Britain and throughout the world.
Early Life
The eldest of six children, John Henry Newman grew up in a close-knit family and was educated at Dr. Nicolas' school at Ealing. At age fifteen, shortly before he matriculated at Oxford, Newman underwent a period of extreme mental crisis, which he later described as his conversion, and became deeply religious, convinced that God had destined him for a high calling. His reading during this period led him to appreciate the early church fathers and to fear the Roman Catholic church's influence in the modern world.
In the fall of 1816, Newman's father took his son to Oxford and enrolled him at Trinity College. Newman did not actually move to the university until the following summer, when he began a period of intense study in the classics and mathematics. His performance during his first year earned for him a prestigious scholarship, but he was bitterly disappointed in 1820 when he failed to gain a coveted first in either classics or mathematics.
Believing that his performance at Trinity did not truly represent his abilities, Newman applied for a fellowship at Oriel College. The examiners found him clearly the best applicant, and in April, 1822, he joined the college, where he was to achieve fame and then notoriety. At Oriel, he became acquainted first with Edward Pusey, Edward Copleston, Richard Whately, and Edward Hawkins, and later with Richard Hurrell Froude and John Keble. In 1825, Newman was ordained an Anglican priest. For the next several years he combined duties as an educator at the college and at Alban Hall, with priestly functions as vicar of St. Mary's Church, Oxford.
An extended trip through Sicily led to a serious illness, which forced Newman into a lengthy period of convalescence on the Continent. He returned to Oxford in time for his friend John Keble's famous sermon on national apostasy, which initiated what came to be known as the Oxford Movement.
Life's Work
Newman and his Oxford colleagues took advantage of the outcry generated by Keble's sermon to bring before the public their thoughts on the proper role of the Church. In September, 1833, Newman published his thoughts on Apostolic Succession in a small pamphlet, or tract, which he had delivered all over Great Britain. This first pamphlet was followed by dozens of others during the next eight years, written by various Tractarians, as Newman's group was called. Intended to establish the right of the Anglican church to the title of "catholic," Tracts for the Times eventually led many to believe that the Church of Rome, not that of Canterbury, was the only body to preserve the true spirit of early Christianity. Newman's polemical Tract Ninety, in which he argued that even Roman Catholics could subscribe to the Thirty-nine Articles, caused such a stir that the tracts were terminated. Newman himself had grown to believe that the Anglican church was not a "via media," as he had once argued so eloquently. In 1841, he left Oxford to reside at the parish house in nearby Littlemore where he spent four years agonizing over his own religious future. Finally, he broke openly with the Church of England: On October 9, 1845, he was baptized into the Roman Catholic church.
The Anglican church hierarchy was shaken by this move; the Roman Catholic community was elated. Within two years, Newman completed his studies in Rome and was ordained a priest, receiving from the Pope a commission to establish in Great Britain an Oratory like those of Saint Philip Neri. Newman established his community in...
(The entire section is 2,292 words.)