Biography
(History of the World: The 19th Century)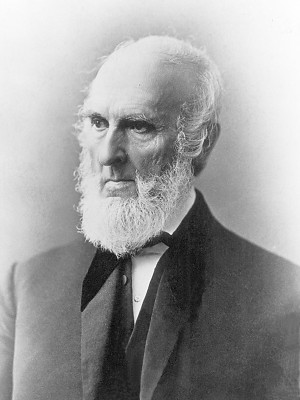 Article abstract: Over a career spanning more than sixty years, Whittier produced a large body of poetry that was not only extremely popular in its own day but also reflected with remarkable clarity and consistency some of the cultural and social attitudes of nineteenth century America.
Early Life
The record of John Greenleaf Whittier's early life is almost a paradigm of the American myth about the country boy who, through talent and diligence, comes to take his place among the leaders of his generation. The second of four children born to John and Abigail Whittier, John Greenleaf was reared on the family farm in northern Massachusetts. A secluded, lonely tract surrounded by low, rolling hills and forests, the farm sat amid the fertile Merrimack Valley, where the young poet spent his youth helping his father, uncle, and younger brother work the land.
Farm life had its moments of quiet, peaceful beauty, and, as the son of devout Quakers, young Whittier came to appreciate the emotional and religious security instilled by his rural surroundings. By fifteen, he was almost six feet tall and slender with dark, piercing eyes. A quiet boy, he enjoyed reading beside the kitchen fireplace, even dabbling in verses of his own. Besides the Bible, his favorite author was Robert Burns, the Scottish balladeer of the late eighteenth century.
The influence of Burns on Whittier's poetic taste and technique was to be indelible, from Whittier's early narrative and legendary poems of New England folklore to the later poetic reminiscences of his mature years. He later recalled, in numerous letters and essays, those early years on the farm when a Yankee peddler would arrive with dry goods for the family and a tale or two for the future poet.
In 1826, at the age of nineteen, Whittier published his first poem. "The Exile's Departure" appeared in The Newberryport Free Press. Generally regarded as a bad poem, it was Whittier's first venture into the two worlds that were to occupy him for most of his creative life: politics and poetry. The editor of The Free Press was William Lloyd Garrison, who was already establishing himself as an early opponent of slavery. Garrison recognized Whittier's literary talent and, in 1828, invited the young man to Boston, Massachusetts, to write for The American Manufacturer. These early efforts were mostly political editorials addressed to the laboring man and his fight for fair working conditions.
Over the next two years, Whittier produced a significant body of work—political editorials, book reviews, poems, sketches—and was gaining a reputation as an honest, fearless journalist. Whittier's Quaker heritage, in fact, played a crucial role in his development as a writer. Well liked, gentle, and dedicated, he was a lifelong pacifist and a conscientious supporter of social justice. By the early 1830's, the rumblings of the slavery issue were already being felt. Though he returned to the farm in 1829 and remained there to take care of the family after the death of his father in 1830, Whittier continued to write and work. His health, always brittle, broke down from the strain of overwork—he suffered continually from migraine headaches—but by 1832 he was writing regularly and had decided that politics were to be his serious calling, having concluded that political activity was the way to achieve moral and social reform.
Life's Work
Though Whittier's first book, Legends of New-England, was published in 1831, it was merely a hodgepodge of trite verse and light prose that added little to his reputation. Throughout the 1830's, Whittier's main focus was on the growing national concern with the issue of slavery. As early as 1833, he produced one of the earliest manifestos on the cause of abolition. Justice and Expediency , a prose pamphlet, took the nation by storm, and Whittier became more famous as a propagandist in the cause of antislavery than as a poet. In...
(The entire section is 1,992 words.)