Biography
(Nonfiction Classics for Students)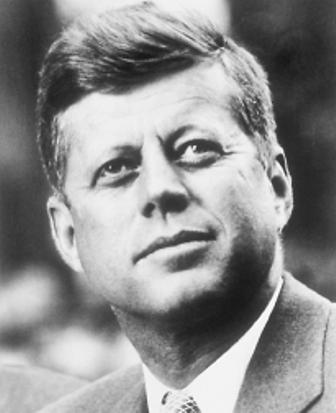 John Fitzgerald Kennedy, the author of Profiles in Courage, was born on May 29, 1917, in Brookline, Massachusetts. He was the second of nine children born to Joseph and Rose Kennedy, who pushed their children to strive to accomplish great things. Joseph was an ambitious man who pinned his political hopes on his oldest son, Joe. When Joe died in 1944, however, Joseph's attention turned to John. Although John had been sickly as a child, he was accepted into the Navy during World War II. After a 1943 incident at sea, John was declared a war hero. Kennedy's military service, family name, and excellent education (London School of Economics, Harvard, and Stanford Business School) gave him a strong start in politics. He had not planned on a political career, but he felt a sense of responsibility toward his family now that he was the oldest. Once he entered public service, he found it a rewarding path.
In 1946, Kennedy won a seat in Congress as a representative of Massachusetts, and in 1952, he became a U.S. senator. Because Republicans won most of the 1952 elections, Kennedy's victory earned him the respect of the Democratic Party. His career was developing quickly, and, in 1960, he won his party's presidential nomination. Kennedy's battle cry was a call for action and national greatness.
The 1960 election was the first in which television played a strong role in winning votes. While most commentators found that the candidates' views were not radically different, they agreed that Kennedy's poise and good looks created the perception among many voters that he was more qualified for the position. Still, his victory over Richard Nixon came by a narrow margin of only 12,000 votes.
Kennedy proved to be a dynamic and eloquent public speaker, and the American people were responsive and optimistic. In addition, Kennedy had a stylish wife and an all-American family, which contributed to his public image. In spite of all this, his presidency was a difficult one, marked by crises abroad and civil rights struggles at home. Kennedy was credited with creating a renewed sense of patriotism but was also criticized for thriving on conflict. When he was assassinated in Dallas by Lee Harvey Oswald on November 22, 1963, the nation mourned. Although historians debate the realities of Kennedy's ''Camelot'' years, Kennedy continues to be among Americans' favorite presidents.