Other literary forms
(British and Irish Poetry, Revised Edition)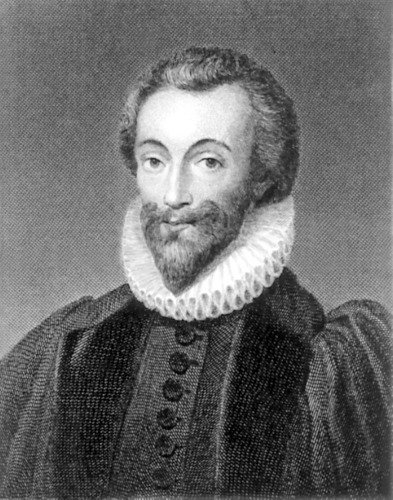 Although John Donne (duhn) is known chiefly as a lyric poet, the posthumous volume Poems, by J.D., which includes the lyrics, represents only a small part of his literary output. Donne was famous in his own age mainly as a preacher; in fact, he was probably the most popular preacher of an age when preaching held the same fascination for the general public that the cinema has today. Various sermons of Donne's were published during his lifetime, and several collections were published in the following decades. Without a commitment to Donne's religious values, however, few today would want to read through many of his sermons. Donne must, however, be credited with the careful articulation of the parts of his sermons, which create a resounding unity of theme; and his control of prose rhythm and his ingenious imagery retain their power, even if modern readers are no longer disposed to see the majesty of God mirrored in such writing.
Excerpts from Donne's sermons thus have a continuing vitality for general readers in a way that excerpts from the sermons of, for example, Lancelot Andrewes cannot. In the early seventeenth century, Andrewes had been the most popular preacher before Donne, and, as bishop of Winchester, he held a more important position. He also had a greater reputation as a stylist, but for modern readers, Andrewes carries to an extreme the baroque fashion of "crumbling a text" (analyzing in minute detail). The sermons of Andrewes are now unreadable without special training in theology and classical languages. On the other hand, though also writing for an educated audience with a serious interest in divinity, Donne wears his scholarship more easily and can still be read by the general student without special preparation. His sermon to the Virginia Company is the first sermon in English to make a missionary appeal.
The single most famous of Donne's sermons was his last. Death's Duell (1632), preached before King Charles on February 25, 1631, is a profound meditation on mortality. Human mortality is always a major theme with Donne, but here he reaches a new eloquence. Full of startling imagery, the sermon takes as its theme the paradox that life is death and death is life—although Christ's death delivers humankind from death. When this last sermon of Donne's was published, Henry King, bishop of Chichester, remarked that "as he exceeded others at first so at last he exceeded himself."
A work of similar theme but published by Donne in his own lifetime is the Devotions upon Emergent Occasions (1624). Composed, as R. C. Bald has shown, with extreme rapidity during a serious illness and convalescence in 1623, this work is based on the structured meditational technique of Saint Francis de Sales, involving the sensuous evocation of scenes, although, as Thomas F. Van Laan has suggested, the work is perhaps also influenced by the Ejercicios espirituales (1548; The Spiritual Exercises, 1736) of Saint Ignatius of Loyola. It is divided into twenty-three sections, each consisting of a meditation, an expostulation, and a prayer. The work is an artfully constructed whole of sustained emotional power, but the meditations have achieved a special fame with their vivid evocations of the theme that sickness brings people closer to God by putting them in touch with their frailty and mortality. Various meditations from the Devotions upon Emergent Occasions present famous pictures of the tolling of the death knell, of the body as a microcosm, and of the curious medical practices of the day, for example, the application of live pigeons to Donne's feet to try to draw the vapors of fever from his head. By this last practice, Donne discovers that he is his own executioner because the vapors are believed to be the consequence of his melancholy, and this is no more than the studiousness required of him by his calling as a preacher. Although in past centuries most readers found the work's...
(The entire section is 2,413 words.)