Biography
(Great Authors of World Literature, Critical Edition)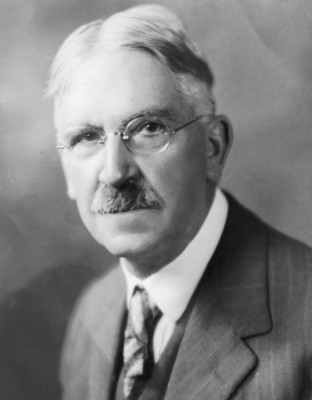 The United States' best known and most influential twentieth century philosopher, John Dewey (DEW-ee) reconstructed a number of inherited philosophical perspectives. They include traditional philosophers' frequent separation of the world of ideas from the world of practical reality; their separation of subject and object, soul and body, God and nature; and their acceptance of the mind as passive instrument that garners knowledge only from the imprint of external events. Dewey formulated a fresh theory of knowledge designed to liberate individuals from social environments he believed were ripe for reform and improvement through the application of reflective intelligence, scientific analysis, and an understanding of the potential for change that could be derived from individual experiences. He reevaluated the social functions of idealism, religion, psychology, logic, and ethics; reinterpreted and helped revitalize liberal democratic thought; and encouraged sweeping educational reform. He was, in addition, an immensely productive scholar throughout his working lifetime of fifty years, publishing twenty-one books—most translated into foreign languages—and scores of significant articles. His collected works fill thirty-seven substantial volumes. Before he died in 1952, Dewey had explored nearly the entire range of philosophical inquiry even though, as some have noted, he never developed a systematic metaphysics. In the estimate of other leaders of the early twentieth century Progressive movement, in which Dewey played an important role, he was regarded as the preeminent philosophical champion of social democracy. Among academic philosophers, he was recognized as a pragmatist of a kind who elaborated and expanded upon experimentalist ideas identified in part with Thomas Hill Green, Charles Sanders Peirce, Josiah Royce, and William James. Liberals widely acclaimed him the conscience of the American people, while many conservatives, fearing the undeniable radicalism of his ideas, denounced him.
Burlington, Vermont, where Dewey was born in 1859, was a rapidly industrializing town of ten thousand, with traditional, if rapidly changing, values that were reflected by the prominence of its churches and by the buildings of the highly respected University of Vermont. What Dewey perceived of the town, however, was the growing social and economic division of its classes, accompanied by distinctions of morality and taste. Dewey was the second son of a middle-aged grocer, later the owner of a cigar store. Dewey's mother was devoutly religious and raised her children alone during the nearly six years that her husband served in the army during and after the Civil War. Thus, while Dewey rejected the sentimental and moralistic piety then characteristic of much of New England religion, he retained a lifelong interest in religion, particularly in Christianity's relevance to people's everyday lives.
Throughout his life, Dewey outwardly appeared the quintessential academic philosopher. He was shy and self-effacing. He lacked the personal vividness that excites biographers and showed no signs of precociousness or even great imagination during his youth and early manhood. Even his most admiring students judged him a boring lecturer, and his abundant writings are undistinguished either by the excellence of their style or by their readability. Moreover, he seemed oblivious to physical or cultural influences that might have marked him in the many places where he studied or held professorships: the University of Vermont from 1875 to 1879; Oil City, Pennsylvania, where he taught school from 1879 to 1881; Charlotte, Vermont, where he taught school in 1881; The Johns Hopkins University, where he earned his Ph.D. in 1884; the universities of Minnesota and Michigan, where he held positions between 1884 and 1894; the University of Chicago, where he served from 1894 to 1904; and Columbia University, where he taught...
(The entire section is 1,359 words.)