Primary Source
(Renaissance and Reformation: Primary Sources)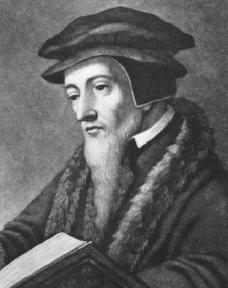 Excerpt from Ecclesiastical Ordinances Edited by Hans J. Hillerbrand Published in 1968
John Calvin (1509–1564) was perhaps the most influential leader of the Protestant Reformation, a movement to reform the Roman Catholic Church in Europe. He was involved in reform efforts at the same time as Martin Luther (see entry), the German theology professor who initiated the Reformation. Calvin interpreted Christianity more strictly than Luther, however, establishing his own distinct form of Protestantism in Geneva, Switzerland. Under his tireless direction, Geneva became the focus of successful and far-reaching evangelism (personal commitment to the teachings of Jesus Christ, founder of Christianity), which was the foundation of many present-day Protestant churches.
Calvin brings evangelism to Geneva
John Calvin was born Jean Cauvin in Noyon, France, in 1509. His father, Gérard Cauvin, was a lawyer who worked for the local bishop. His mother, Jeanne Lefranc, was the daughter of a fairly well-to-do innkeeper. Calvin was educated in Noyon until 1523, when he was awarded a benefice, or church office in which income is used for education. He enrolled at the University of Paris, where he received an extensive humanist education. (Humanism was the study of ancient Greek and Latin works and early biblical texts.) Calvin remained at Paris for five years with the intention of entering the Catholic priest-hood, but in 1528 his father ordered him to switch from theology (study of religion) to law. At some point he converted to Protestantism. Late in 1533 there was a general crackdown on Protestants by the royal government, causing Calvin to flee Paris.
Calvin left France in 1534. Traveling under the assumed name Martianus Lucianius, he settled in Basel, Switzerland. He spent the next two years in private study. In 1536 he published the first edition of his major work, Christianae religionis institutio (Institutes of the Christian Religion; see accompanying box). One evening in June 1536, Calvin stopped in Geneva to spend the night. He intended to continue on his journey the following day, but the local evangelical preacher, Guillaume Farel (1489–1565), had another idea. Farel convinced Calvin that it was his duty to God to remain where he was most needed. Farel had hoped to expel Catholicism from the city, which had recently won its independence from the church. Calvin agreed to stay in Geneva, and with Farel he worked to establish Protestantism within the city. Within a couple of years, however, both men were banished for being too strict and for encouraging French Huguenots (Protestants from France) to move to Geneva. Calvin then went to Strasbourg, where he taught at an academy, preached, and developed his ideas on the nature of the ideal Christian church. Calvin's friends in Strasbourg urged him to find a wife. In 1540 he married Idelette Bure, the widow of one of his converts, who already had a son and a daughter. The couple's only child died shortly after birth in 1542. Idelette died seven years later, but Calvin never remarried.
In 1541 Calvin returned to Geneva in response to a call from the floundering church. He had been assured that he would be given the freedom he felt was necessary to build God's earthly kingdom. He then wrote Ecclesiastical Ordinances, which served as the basis of a reorganized local church government to be headed by a group called the consistory. The ordinances were approved by the citizens of Geneva in late 1541.
(The entire section is 2,983 words.)