Biography
(Masterpieces of American Literature)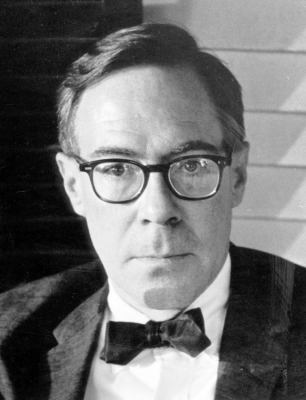 John Berryman was born John Allyn Smith, Jr., on October 25, 1914, in McAlester, Oklahoma, the elder son of John Allyn Smith, Sr., and Martha Shaver Little Smith. The Smiths would have one other child, Robert Jefferson Smith, born September 1, 1919. Between 1914 and 1926, the Smith family moved about every two years to various Oklahoma farming communities, the elder Smith holding a series of banking positions. In 1924, a scandal involving the senior Smith's brother's theft of funds forced Berryman's father to resign from the First State Bank in Anadarko, Oklahoma. By 1925, Berryman's parents and grandmother had moved to Tampa, Florida. The boys remained in Oklahoma at a Roman Catholic boarding school, St. Joseph's Academy. Tempted by cheap land and quick profit, Berryman's father began to speculate in Florida real estate. By mid-1926, however, the land boom collapsed, Smith went bankrupt, and the entire family, including the boys (by this time recalled from Oklahoma), moved to Clearwater, Florida. It was there that they rented an apartment in a building owned by John Angus McAlpin Berryman.
The Smiths' marriage was by then all but ended. Smith, increasingly despondent over his business failures and his wife's obvious romantic involvement with their landlord, threatened suicide. On June 26, 1926, Smith was found shot dead outside their apartment, apparently a suicide. By September 8, 1926, his wife had married Berryman and had changed her own first and middle names to Jill Angel. She also changed her elder son's name to John Allyn McAlpin Berryman, though this was not done legally until 1936, when Berryman filed for a passport to study in England. Thus it was that at the age of twelve, the future poet had to abandon the name of his father and assume that of his mother's lover. His stepfather, whom he called "Uncle Angus," was a distant but never cruel man; even so, his father's apparent suicide continued to affect Berryman throughout his life. It certainly contributed to his preoccupation with death by suicide and foreshadowed his own manner of death.
After a generally unhappy stay at South Kent School in South Kent, Connecticut, Berryman had the good fortune to attend Columbia University, starting in 1932. It was there that he studied under Mark Van Doren. Van Doren, himself a poet as well as a scholar, encouraged Berryman to write verse, took him as a protégé, and was instrumental in helping him obtain the Euretta J. Kellett Scholarship for two years of study in England at Clare College, University of Cambridge. Berryman spent 1936 through 1938 at Clare College, pursuing his studies in the alternately brilliant, erratic, and lackadaisical way that typified his entire school career.
The two most important events of this period of his life were his engagement (despite a previous commitment to American Jean Bennett) to Beryl Eaman, a young English actress (for whom he would write a verse play, Cleopatra, in 1937) and his winning of the Oldham Shakespeare Prize. Eaman would stay with the Berrymans in 1938 and early 1939, but her doubts, coupled with the onset of World War II, led to her breaking the engagement.
The war years were difficult for Berryman. His mother had separated from his stepfather. Though Berryman had managed to place several poems with The Southern Review in 1938, he was without any work until the fall of 1939, when he managed (through Van Doren) to obtain an instructorship in English at Wayne University, Ann Arbor, Michigan. By December, however, he was having fainting spells, misdiagnosed as petit mal, a form of epilepsy. Things seemed better in the fall of 1940 but only for a short time.
He obtained an instructorship at Harvard University and published some of his poems in Five Young American Poets (1940), but he was not generally liked by his Harvard colleagues because of his irascible temperament and his firm refusal to pursue doctoral studies. He did not endear himself to James Laughlin, publisher of the poetry anthology, when he objected to his work being published with other poets, despite the fact that the others were Elizabeth Bishop, Randall Jarrell, W. R. Moses, and George Marion O'Donnell.
Berryman's poor eyesight and medical history meant exemption from military service, but with the United States' involvement in the war, college classes were small. He married his first wife, Eileen Patricia Mulligan, in 1942, but Harvard did not renew his contract, so at the end of spring term in 1943 he was without a teaching post and had little hope of finding one. He accepted a temporary position teaching English and Latin at Iona Preparatory School in New Rochelle, New York, in the fall of 1943 but resigned three weeks after the term had begun, to accept an instructorship in English at Princeton University.
Largely on the strength of his promise, for he had as yet published relatively little and nothing of a scholarly nature, Berryman obtained a two-year Rockefeller Foundation Research Fellowship in 1944 to prepare an edition of William Shakespeare's King Lear (1608). It was at this time that he first met the American poet Robert Lowell and Lowell's wife, author Jean Stafford.
Berryman never would complete his Shakespeare text, but the postwar years would bring a series of works which would dramatically illustrate his evolving style: The Dispossessed (1948), an anthology of verse that resembles the poetry of William Butler Yeats and Robert Frost; Homage to Mistress Bradstreet (1956), a long poem in which the poet attempts to seduce an unhappy and frustrated Anne Bradstreet (an American Puritan poet); and Seventy-seven Dream Songs (1964), later supplemented, rearranged, and published as The Dream Songs (1969). This last is his masterwork, and it introduced "Henry," a Berryman persona, as its antihero.
Despite the steadily increasing fame he won through these works and the tenured position he held as Regents Professor of Humanities at the University of Minnesota, Minneapolis, Berryman's personal life grew ever more chaotic. His second marriage, to Elizabeth Ann Levine, the mother of his only son, Paul, lasted less than three years (from 1956 to 1959). His third marriage, in 1961, to Kathleen Donahue, was more stable; his two daughters, Martha and Sarah Rebecca, were born in 1962 and 1971, but Berryman's drinking and despondency threatened even this relationship in the months before his death. Lukewarm critical reaction to Love and Fame (1970), which is a sober view of Berryman's pursuit of both as avenues to happiness, raised fears concerning his power to create verse. Though the critics had been kinder to Berryman's Sonnets (1967), those were twenty-year-old poems about a 1947 love affair.
Amid fears that his creative life was over, that his third marriage was failing, and that he was no longer effective as a teacher, Berryman closed the covenant that much of his poetry indicates he believed he had with his father. On a bitterly cold morning in Minneapolis, January 7, 1972, he leaped from the Washington Avenue Bridge, which connects the University of Minnesota's east and west campuses. His life thus ended as violently as had those of several poet colleagues he most admired: Hart Crane, Randall Jarrell, and Sylvia Plath.