Biography
(Great Authors of World Literature, Critical Edition)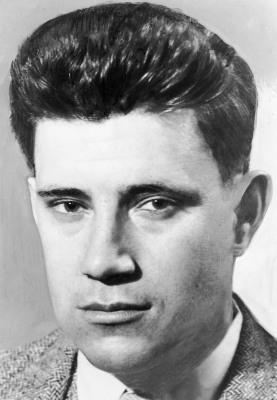 Jesse Hilton Stuart was one of the more remarkable and original writers in American literature. Amazingly prolific, with more than sixty books in a variety of genres, Stuart produced work that was largely uneven. It has been as much admired by a broad popular audience as it has been maligned, or ignored, by the mainstream of literary opinion. Born in a log cabin in W-Hollow in the hills of eastern Kentucky, Stuart was the first in his family to finish high school. He worked his way through Lincoln Memorial University, a small mountain college in Tennessee, from which he graduated in 1929.
After two years of teaching and administrative experience in his native region, he attended Vanderbilt University, where he pursued but did not complete an M.A. in English. He was particularly drawn to Vanderbilt because of the presence there of the Fugitive-Agrarians, such poets, writers, and teachers as Donald Davidson, John Crowe Ransom, and Robert Penn Warren. Although Stuart sometimes seemed to confuse the moral, aesthetic, and philosophical bases of Nashville Agrarian thought with mere farming, he was certainly influenced profoundly by what he took to be the group's back-to-the-farm and anti-industrial arguments, as well as by its emphasis on the southern sense of place, family, community, and language. The best record of Stuart's vision of these years is found in his first and finest autobiographical volume, Beyond Dark Hills, which was originally submitted as a term paper at Vanderbilt.
Man with a Bull-Tongue Plow, Stuart's first important book, appeared in 1934. This rough collection of 703 sonnets is a work of genuine force and energy. Stuart begins the volume with an announcement: "I am a farmer singing at the plow." He then carries the reader through the cycles of the seasons, the land, and the lives, loves, and deaths of the mountain country and people. The stance he assumes here—the primitive mountain bard, the poet of Appalachia—would remain his typical persona and most effective voice throughout his career. He had been profoundly influenced by the work of Robert Burns, and, with the appearance of this volume, Stuart was hailed as the American Burns. His later volumes of poetry never lived up to the power and freshness of this work.
With the publication of Head o' W-Hollow, Stuart's first collection of stories, he was hailed as an important writer of fiction with substantial gifts of humor, observation, and creative use of language based on mountain dialect and idiom. Through many volumes over the next four decades Stuart's fiction evoked this hillbilly world, until W-Hollow seemed, to some observers, to have earned a place akin to William Faulkner's Yoknapatawpha County in the literary geography of the United States. Trees of Heaven, his first novel, renders this world fully as it works out a love story between a squatter's daughter, Subrinea Tussie, and a landowner's son, Tarvin Bushman, against the thematic background of the squatter-landowner conflict. Through the patriarchal landowner Anse Bushman, Stuart powerfully renders what may be his single great theme: love of land, of farming, of drawing strength from the earth. Taps for Private Tussie, Stuart's next novel, continues the hilarious chronicle of the Tussies, the indolent hill clan committed to avoiding work, to eating, drinking, and dancing all night long. Immensely popular, this comic novel was a best-seller and received the Thomas Jefferson Award for the best southern book of 1943.
Much of his life Stuart was a teacher, in the country schools of Kentucky and in colleges and universities as far afield as Egypt, where he taught for a year at the University of Cairo. Stuart thought teaching "the greatest profession under the sun," and in The Thread That Runs So True he paid tribute to the profession. This award-winning autobiographical hymn to teaching has at its center the dramatic presence of a man who...
(The entire section is 1,120 words.)