Biography
(Poets and Poetry in America)
On April 27, 1934, Jean Valentine was born to John W. Valentine and Jean Purcell Valentine in Chicago, Illinois. When she was three, her family moved to New York State. Seven years later, her father returned from serving in the U.S. Navy during World War II, but he had what would later be known as post-traumatic stress syndrome. The ramifications for the Valentine family were psychological instability, frequent moves, and emotional uncertainty. The only consistent stability in the young Valentine's life was a summer retreat, referred to as "the farm." It provided a sanctuary of calm and solace for the young poet, for it was there she found aunts and uncles who treated her as though she were a beloved grandchild. The family moved to Massachusetts, where Valentine attended Milton Academy for Girls' School. She entered Radcliffe College in 1952 and majored in English. In 1956, while she was still a student, her composition "Poem" was published in The Harvard Advocate. She graduated cum laude.
In 1957, Valentine married a man three years her senior, James Clark Chace, a leading foreign-policy historian and author. The couple had two daughters, Sarah (born 1958) and Rebecca (born 1960), before being divorced in 1968.
In her late thirties, Valentine faced a watershed moment. A fear of the darker elements of poetry seeped into her consciousness, and she worried that it was the darkness that historically had driven poets to commit suicide. She sought professional guidance to help her deal with the fear and her alcoholism. She did not write from 1982 to 1987.
In 1989, Valentine went to Ireland to live with abstract painter Barrie Cook. They married in 1991. Following their divorce in 1996, Valentine returned to her longtime home, New York City. A respected teacher, Valentine has instructed students at Sarah Lawrence College; held workshops at Swarthmore College, Yale University, and the Ninety-Second Street Y in New York City; and led graduate writing programs for New York University and Columbia University.
Biography
(Poetry for Students)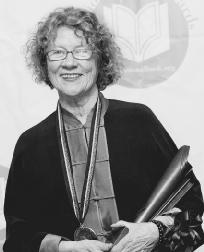 Born in Chicago, Illinois, on April 27, 1934, to Jean Purcell and John W. Valentine, Jean Valentine went to Milton Academy from 1949 to 1952 and then received a bachelor's degree from Radcliffe College (of Harvard University) in 1956. Valentine has lived most of her life in New York City, teaching at Sarah Lawrence College, the Graduate Writing Program of New York University, Columbia University, and the 92nd Street Y in Manhattan. She has also taught many poetry workshops at various universities. Valentine married James Chace in 1957. They had two daughters, Sarah and Rebecca, but were divorced in 1968. For nearly eight years, from 1989 to 1996, Valentine lived in Ireland with Barrie Cooke, an English painter, but returned to the United States when that relationship dissolved. Some of her poetry, however, reflects her time in Ireland.
There was also a period from 1982 to 1987 when Valentine did not write at all because of alcoholism. She had stopped drinking at age forty-seven in 1981, but she suffered so much from the trauma of withdrawal that she could not write. She entered a recovery program in 1985 and eventually found that writing again helped her to regain her life. A Catholic convert, Valentine also made progress in her recovery through the effects of her volunteer work for her church during that time. Her religious affiliation is on again, off...
(The entire section is 811 words.)