Other Literary Forms
(Literary Essentials: Short Fiction Masterpieces)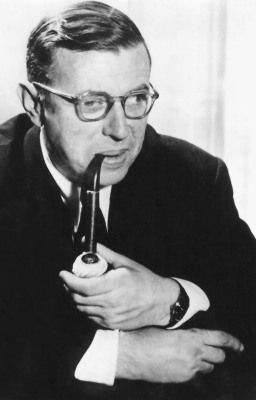 Trained as a philosopher, Jean-Paul Sartre emerged during and after World War II as a major intellectual force in France and around the world, thanks mainly to his developing doctrine of existentialism. Unlike the rank and file of philosophers, Sartre soon proved to have a vivid literary and dramatic imagination, using the medium of creative writing to illustrate his major precepts. He is best known as a dramatist and the author of such plays as Les Mouches, Huis clos (pr. 1944; In Camera, 1946, better known as No Exit, 1947), and Les Mains sales (pr., pb. 1948; Dirty Hands, 1949). Sartre is remembered also for the experimental novel La Nausée (1938; Nausea, 1949). Les Chemins de la liberté (1945-1949; The Roads to Freedom, 1947-1950), a projected tetralogy of which only three volumes were ever completed, represents Sartre's only other venture into long fiction. Thereafter, apart from his plays, Sartre wrote mainly essays, both literary and political, collected in Situations (1947-1976; partial translation, 1965-1977); he is known also for psychobiographical studies of eminent French authors, including Baudelaire (1947; English translation, 1950) and L'Idiot de la famille (1971-1972; partial translations, The Family Idiot, 1981, 1987), a study of the youth and maturity of Gustave Flaubert before the publication of Madame Bovary in 1857. Published in France in the early 1970's, The Family Idiot did not appear in English translation until after Sartre's death.
Achievements
(Literary Essentials: Short Fiction Masterpieces)
Ironically, Jean-Paul Sartre's continuing reputation as a writer of short fiction rests on a single volume published at the start of his career and more specifically on the title story in the collection. "Le Mur" ("The Wall"), for all of its flaws, remains among the more arresting and memorable short stories of the twentieth century, defying imitation even as it invites increasingly "revisionist" criticism. The "other stories" included with "The Wall" are decidedly uneven in quality, of interest primarily to those interested in tracing Sartre's development as a writer and thinker. Meanwhile, "The Wall" itself remains standing, still viable because of its analysis of human nature as well as its documentation of a regrettable moment in history. Shortly after publication of Sartre's autobiographical essay Les Mots (The Words, 1964), Sartre was awarded the Nobel Prize in Literature but saw fit to decline the honor, ostensibly on political grounds.
Other Literary Forms
(Critical Edition of Dramatic Literature)
A philosopher by trade and training, Jean-Paul Sartre is best known as the principal exponent of existentialism , a philosophical attitude developed from the work of such earlier thinkers as Karl Marx, Edmund Husserl, and Sartre's older contemporary Martin Heidegger. Initially developed across such fictional texts as the early novel La Nausée (1938; Nausea, 1949) and the collected short stories of Le Mur (1939; The Wall and Other Stories, 1948), Sartre's existentialism received full academic exposition in the massive L'Être et le néant (1943; Being and Nothingness, 1956). In the meantime, Sartre had discovered in the immediacy of theater a vehicle almost ideally suited to the expression of his ideas. Further experiments with prose fiction, somewhat less successful than his playwriting, resulted in the unfinished tetralogy The Roads to Freedom (1947-1950), which includes L'Âge de raison (1945; The Age of Reason, 1947), Le Sursis (1945; The Reprieve, 1947), and La Mort dans l'âme (1949; Troubled Sleep, 1950). Sartre also achieved distinction with speeches and essays contained in the several volumes of the journal Situations, published from the 1940's through the 1960's, as well as with highly personal literary criticism devoted to such authors as Charles Baudelaire, Gustave Flaubert, and Jean Genet. In 1964, Sartre declined the Nobel Prize in Literature on grounds deemed both political and personal. His autobiographical essay Les Mots (The Words ) had...
(The entire section is 3,133 words.)