Biography
(History of the World: The 20th Century)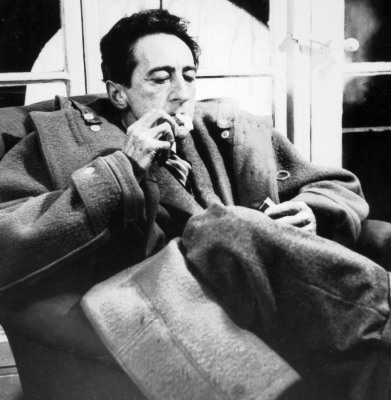 Article abstract: From the years before World War I until his death in 1963, Cocteau enriched the cultural life of France with his highly creative contributions to such diverse fields as literature, ballet, art, and cinema. His works express with great lucidity a pessimistic view of the world that continues to fascinate admirers of Cocteau's films, novels, plays, and poems.
Early Life
Jean Cocteau was born on July 5, 1889, in Maisons-Laffitte, a small town outside Paris. His father, Georges, was a wealthy businessman and his mother, Eugénie, was very interested in art and music. His maternal grandfather was both an avid art collector and a respected cellist. Art and music played an integral part in Cocteau's childhood and adolescence. After Georges Cocteau's death in 1899, his widow Eugénie moved to Paris with her two sons, Jean and Paul, and her daughter Marthe. During his adolescence, Cocteau frequented Parisian literary salons and composed well-crafted but rather conventional poems. He was not yet an original artist.
During the years before World War I, Cocteau met the eminent Russian ballet impresario Sergey Diaghilev and the composer Igor Stravinsky. Their creative transformations of musical conventions inspired Cocteau to seek equally imaginative and disciplined ways to express his own poetic vision. Lasting friendships with such poets as Max Jacob and Guillaume Apollinaire, with painters including Pablo Picasso and Georges Braque, and with the composers Darius Milhaud, Erik Satie, and Arthur Honegger encouraged Cocteau to develop profound relationships among these art forms. Cocteau produced drawings of excellent quality. He worked together with Picasso and Diaghilev on an experimental 1917 ballet entitled Parade, and he would later write the libretto for Stravinsky's 1925 oratorio Oedipus Rex. His extended contacts with important poets, painters, and composers helped to transform Cocteau from an urbane salon poet into a creative writer.
Life's Work
Although Cocteau did produce during the 1910's highly imaginative books such as his 1919 volume of poetry Le Cap de Bonne-Espérance (the Cape of Good Hope), which describes the world as seen from an airplane, there was no real unity or depth in his works from this decade. He was then an extremely eclectic writer who followed whichever literary movements were popular in Paris. In 1919, however, Cocteau met Raymond Radiguet. The four years that they spent together changed permanently Cocteau's understanding of his role as a writer. Radiguet became Cocteau's lover, but, more important for Cocteau, Radiguet became his intellectual mentor and the only real friend whom Cocteau ever had. He persuaded Cocteau to distrust all trendy and thus ephemeral literary movements. He wanted Cocteau to create a new French classicism that would stress aesthetic distance, clarity in style and thinking, and profound analyses of human emotions. Under Radiguet's guidance, Cocteau began to compose truly significant works such as Thomas l'imposteur (1923; Thomas the Impostor, 1925), a powerful psychological novel about an adolescent's personal suffering during World War I. Radiguet's death in December, 1923, of typhoid fever drove Cocteau into an extreme depression from which he never fully recovered. His acquaintances feared that Cocteau would kill himself. Louis Laloy, then director of the Monte-Carlo Opera House, believed that opium would help Cocteau. Cocteau began taking opium, and his drug addiction clearly exacerbated his emotional problems. Several times Cocteau entered drug rehabilitation programs, but his efforts never fully succeeded, largely because Cocteau enjoyed the illusory pleasures of consuming opium.
Despite his drug addiction, Cocteau remained a very prolific writer. Perhaps recalling Radiguet's passion for the classics, Cocteau now sought inspiration more and more frequently in classical literature. Cocteau adapted classical...
(The entire section is 2,704 words.)