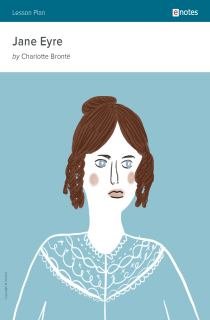 Jane Eyre eNotes Lesson Plan
by eNotes
Release Date: February 18, 2020
Subjects: Language Arts and Literature
Age Levels: Grade 10, Grade 11, Grade 12, and Grade 9
Pages: 185
Purchase a Subscription
Excerpt
Learning Objectives: 
By the end of this unit, students should be able to
identify characters and describe the plot of Jane Eyre; 
describe the central conflict; 
analyze the characters of Jane Eyre and Rochester; 
identify the primary themes and motifs; 
identify the various representations of romantic love and filial love presented in the novel, and explain how marriage is a affected by social conventions; 
define and explain the social and economic roles available for women during the Victorian era; 
discuss how children are perceived in general in Victorian society and how they are treated according to their social class, and identify the different modes of education available to them; 
explain how Brontë addresses religion and nature (both the natural world and an individual's natural disposition); 
identify and discuss the novel's Gothic elements and how they contribute to character and plot development; 
explain how Rochester exemplifies the Byronic hero in Romantic literature; 
understand what features make Jane Eyre an iconic novel of the British Romantic period. 
Introductory Lecture:
One of the most widely read novels of all time, Charlotte Brontë's Jane Eyre is the story of a passionate and seemingly impossible love set within a mysterious and forbidding Victorian atmosphere. It is a Gothic tale, replete with the mystery, suspense, and horror that define the genre, but it is also a novel that addresses social issues of the day. Through the narrative, Brontë raises questions about the limited education provided in church schools, the expectations and opportunities for women, the value of family connections, and the importance of romantic love when it conflicts with personal principles or the strict rules of Victorian society. Jane Eyre develops characters who seek their identities by challenging society's status quo. 
Set in nineteenth-century England, the novel begins with the story of young Jane, an orphan who lives with an aunt who dislikes her and does not show her any kindness or affection. When she is ten, Jane is sent to Lowood, a charity school; despite the cruelty of its headmaster, Jane develops physical, intellectual, and emotional strength. She leaves Lowood School to become a governess for Adèle, the ward of Edward Rochester of Thornfield Hall. Jane and Rochester fall in love despite the difference in their ages and social positions. Mystery surrounds Rochester, however; strange sounds and occurrences abound in his manor. Jane leaves Rochester after the revelation that he is married and his wife, who is insane, is being held captive in the attic at Thornfield. After much suffering, Jane becomes the mistress of a village school. She later discovers that she has living relatives and inherits a fortune, which enables her to return eventually to Rochester as an independent woman. At the conclusion of the novel, she tells the reader simply and directly, "I married him," and that she and Rochester live together happily and "equally." 
The novel is a coming-of-age story that focuses on the experiences and emotions that accompany Jane's development from child to adult. There are five distinct stages in Jane's evolution, each of which is linked to a particular place: her childhood at Gateshead, her education at the Lowood School, her time as a governess at Thornfield Hall, her life at Marsh End when she is a teacher in Morton, and her reunion with Rochester at Ferndean. Jane's life unfolds as a dramatic adventure within an atmosphere of psychological dread and constant threat of ruination typical of Gothic novels. 
Charlotte Brontë incorporated into the narrative several elements from her own life. After Brontë's mother died, an aunt assisted in caring for the Brontë sisters (Charlotte, Maria, Elizabeth, and Emily). The sisters were sent to Cowan Bridge, a school for clergymen's children. The cruel and hypocritical fervor of the headmaster in Jane Eyre is based upon the evangelical minister who ran Cowan Bridge. Jane's loss of her dearest friend at Lowood School to tuberculosis recalls the deaths of Brontë's two sisters who died of tuberculosis at Cowan Bridge. Like Charlotte Brontë, Jane becomes a governess, which was often the only professional option for an educated woman at the time. The role of governess provided a good vantage point for Brontë to observe and write about the oppressive social practices of nineteenth-century Victorian society. Reflecting Brontë's early feminist ideals, Jane is rebellious at a time when women were expected to be docile and obedient. Through Jane Eyre, Brontë challenges Victorian mores by suggesting a woman's merits demand the same respect as a man's; moreover, she challenges the conventions of Victorian literature by creating a well-developed heroine with a rich inner life. 
Even as Jane questions society's conventions, gender expectations, religious practices, and the importance of love, the novel does not answer questions for the reader. Consistent with the individual's quest for an independent identity, which is a central tenet of Romanticism, the reader is allowed to contemplate these issues, still relevant today.
About
Our eNotes Comprehensive Lesson Plans have been written, tested, and approved by active classroom teachers. Each plan takes students through a text section by section, glossing important vocabulary and encouraging active reading. Each is designed to bring students to a greater understanding of the language, plot, characters, and themes of the text. The main components of each plan are the following:
An in-depth introductory lecture
Discussion questions
Vocabulary lists
Section-by-section comprehension questions
A multiple-choice test
Essay questions
Each plan is divided into a teacher and a student edition. The teacher edition provides complete answer keys for all sections, including example answers for the essay questions.