Biography
(History of the World: The 20th Century)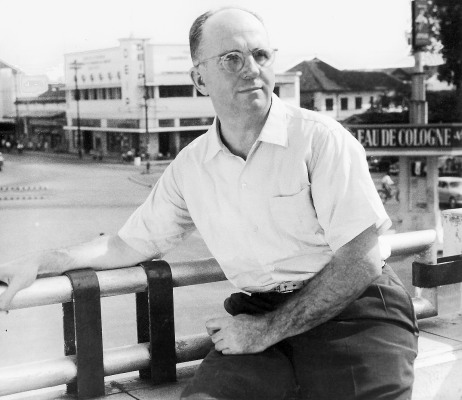 Article abstract: Michener was a prolific writer who became known for his epic novels that explored the landscape, history, and culture of specific geographic regions in the United States and around the world.
Early Life
James Albert Michener was born in 1907. His place of birth is unknown but was probably New York City or Doylestown, Pennsylvania. Very little is known of his early life since he was an orphan raised by a Quaker widow from Doylestown named Mabel Michener. He never discovered the identity of his biological mother and father. His family was poor, but Michener managed to expand his horizons by traveling through forty-five states during the summer of 1921. That fall, he enrolled in Doylestown High School, where, according to at least one teacher, he did not work very hard because he did not have to, being brighter than most students. He became a good basketball player for Doylestown High and later gained scholarship to play on the basketball team of Swarthmore College. Besides playing basketball at Swarthmore, Michener focused on English, history, and philosophy in a rigorous honors program.
After his graduation from Swarthmore College with a bachelor of arts in English and history, Michener taught English at the Hill School in Pottstown, Pennsylvania, from 1929 to 1931. From 1931 to 1933, he studied at St. Andrews in Scotland on a Lippincott Fellowship, visited London and Italy, toured part of Spain, and served for a time in the British Merchant Marine. In 1935, he married his first wife, Patti Koon, and from 1936 to 1939, he taught English at the George School, a Quaker institution in Bucks County, Pennsylvania. From 1936 to 1939, Michener taught at the Colorado State College of Education, where he completed a master of arts degree in 1937. He then taught education at the Harvard Graduate School as a visiting lecturer in 1939 and 1940. In 1940, Michener joined the Macmillan Publishing Company as the social studies editor, a position he held until 1949.
His editorship, however, was interrupted by World War II, and despite both his age and his Quaker background, Michener joined the U.S. Navy in 1942, arriving in the South Pacific as a lieutenant in the spring of 1944. His position as an aviations inspector and publications director led him to visit some fifty islands, an experience that he translated into Tales of the South Pacific, which he began writing during his term of service. In late 1945, Michener returned to his position at Macmillan. Tales of the South Pacific was published in 1947, and the book won Michener the Pulitzer Prize in fiction in 1948. It was turned into a very popular Broadway musical in 1949 and a film in 1958, both titled South Pacific. In 1949, having achieved financial independence, Michener left his job at Macmillan and embraced writing full time.
Life's Work
During the 1950's, Michener continued to write about the world of the Pacific. These works included Return to Paradise (1951), a collection of essays coupled with stories about the islands of the South Pacific, Australia, and New Zealand. In 1953 he published The Bridges at Toko-Ri, a novel featuring an American pilot and set during the Korean War. Michener then took up the theme of interracial relationships in the novel Sayonara (1954), in which two American servicemen who develop relationships with Japanese women face official and unofficial obstacles. By this time, Michener had been married and divorced twice: His first marriage, to Patti Koon, ended in 1948; his second marriage, to Vange Nord, lasted from 1948 to 1955. He then met Mari Yoriko, a Japanese American who had been held in a U.S. internment camp with her parents during World War II. They were married in 1955, a union that lasted until Mari's death in 1994. Her influence led Michener toward a greater emphasis on the need for tolerance, and the order she gave to his personal life was an indispensable aid in the production of his...
(The entire section is 1,886 words.)