Biography
(Great Authors of World Literature, Critical Edition)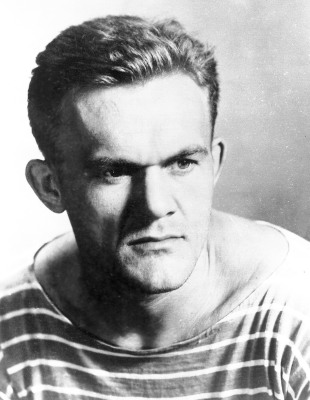 James Ramon Jones was an instantaneous success with the publication of his first novel, From Here to Eternity, which received wide acclaim as one of the best fictional treatments of World War II, even though it deals chiefly with the peacetime U.S. Army just prior to Pearl Harbor. Jones had served in the Army since shortly after his high school graduation in 1939. Jones was the son of a small-town Indiana dentist and his wife. The Great Depression had strained their resources, and they were unable to send their second son to college; the only alternative seemed to be the Army. Jones was stationed at Schofield Barracks in Hawaii when the Japanese attacked on December 7, 1941. He remained in Hawaii until late in 1942, when he was shipped to Guadalcanal. Wounded in January of 1943, he was sent to hospitals in California, Tennessee, and Kentucky before being discharged in July, 1944.
While still in the Army, Jones had met Lowney Handy, whose husband, Harry, managed an oil firm in Jones's hometown of Robinson, Illinois. The Handys encouraged young writers; they virtually adopted Jones, both of whose parents had died while he was in the Army, and gave him financial help and a place to live while he struggled to become a writer. The famous editor Maxwell Perkins was impressed by Jones's first novel, but it was never published. After Perkins's death, his firm did publish the hugely successful From Here to Eternity, as well as Jones's next three novels.
From Here to Eternity is a thoroughly naturalistic novel about the wild, difficult, and dangerous life led by the enlisted men in the Army who were stationed in Hawaii just prior to American involvement in World War II. The men about whom Jones wrote were men of principle trying to survive in an organization run by men without principle.
From Here to Eternity was originally projected as the introductory section of a long novel about the war. Yet it was itself a very long novel, and other interests distracted Jones from his purpose temporarily. Under the influence of Lowney Handy, with whom he founded a writers' colony with some of the proceeds of the sale of his first novel, he turned his attention to his more recent experiences. He wrote next a sprawling novel about servicemen returned to a small midwestern town after the war, Some Came Running; the book sold well, and like its predecessor it was made into a major motion picture, but the new novel was attacked by most reviewers and critics. They disliked its heavy-drinking characters, who seemed obsessed by sex; they rejected the book's vernacular style and its lack of structure. Many who disliked Some Came Running, however, were favorably impressed by The Pistol, Jones's shortest and most carefully crafted novel. Like his first, it was set in Hawaii at the outbreak of the war.
By the early 1960's Jones was ready to return to his Army experiences in another long novel. The Thin Red Line is a story of men in a single company in combat on a Pacific island, clearly based on Jones's experience in Guadalcanal. The characters are those of From Here to Eternity, their names slightly changed, as they would be changed again in the final novel of the trilogy, Whistle. Thus, Sergeant Warden becomes Welsh in The Thin Red Line and then Winch in Whistle, Prewitt becomes Witt and then Prell, and Stark changes to Storm and then Strange. Jones used this device to give continuity to his three-panel picture of the war, but there is also the suggestion of transmigration of souls, a notion in which Jones may have believed.
The Thin Red Line, with its narrow focus on a single unit in a limited combat engagement, is probably the most detailed and accurate depiction of combat in any American novel of World War II. It lacks the depth of character and the variety of action found in From Here to Eternity , but it has an impressive concentration and narrative force. Jones's admirers point to his honesty and devotion to...
(The entire section is 1,869 words.)