Biography
(History of the World: The 19th Century)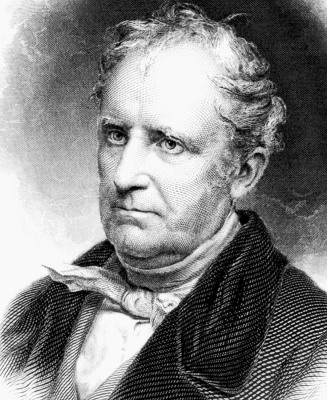 Article abstract: Cooper pioneered the historical novel based on American themes and characters. He also wrote the first sea novel. In his fiction and nonfiction, he proved himself an astute social critic of the excesses of democracy.
Early Life
The eleventh child of William Cooper and Elizabeth Fenimore Cooper, James Cooper—he was to add the Fenimore in 1826—was born in Burlington, New Jersey, on September 15, 1789. When Cooper was thirteen months old, the family left the urban Burlington for the wilderness at the southern shore of Ostego Lake. Here William Cooper built Ostego Hall and developed the surrounding area as Cooperstown. This frontier village would serve as the model of Templeton in The Pioneers (1823), as the novelist's father would become the aristocratic Judge Temple in that novel and Ostego Lake turn into Lake Glimmerglass. By the time the Coopers settled in New York, the Indians had departed; Cooper's Indians derive from books, not personal knowledge. The wilderness remained, though, and figured prominently in many of his novels.
Cooperstown soon established a local academy, which Cooper attended before going to Albany to study under the Reverend William Ellison. In 1803, Cooper entered Yale. At the age of thirteen, he was more interested in pranks than studies. After blowing up a classmate's door with gunpowder, Cooper was expelled.
The following year, he was sent to sea aboard the Stirling, where he encountered a series of adventures he would later use in his nautical novels. Off the coast of Portugal, the ship was pursued by pirates. Entering British waters, they found themselves no safer. With the Napoleonic Wars raging, Britain was impressing American seamen into its navy; the Stirling was boarded and several sailors removed.
Cooper returned safely to the United States, where he was eligible for a commission as midshipman in the navy. His first assignment was to a ship in dry dock in New York; his second was to a ship still under construction on Lake Ontario. Eager to see active service in open water, he maneuvered to secure a berth aboard the Wasp, an eighteen-gun sloop. Again, though, he was disappointed, for the commanding officer was so impressed with the midshipman that he made him his recruiting officer, a post that required Cooper to remain onshore. Despite this series of disappointments, Cooper had learned much about ships, and this knowledge found its way into both his fiction and his nonfiction.
In December, 1809, Cooper's father died; in May, 1810, Cooper therefore requested a twelve-month furlough to attend to family business. This business included wooing Susan Augusta DeLancey, daughter of a country squire. On January 1, 1811, the two were married.
Cooper had promised Susan that he would surrender his commission in the navy, so he turned his attention to earning a living as a gentleman farmer and speculator. Between 1813 and 1819, his six siblings died, making him heir to his father's extensive land holdings but also leaving him responsible for his brothers' dependents and debts. As he struggled with these various financial difficulties, a happy accident changed the course of his life and of American letters as well.
Life's Work
In 1820, the Coopers were living in Scarsdale. Among the popular recreations of the family was reading aloud. One day, Cooper began Jane Austen's Persuasion (1818). After a few pages, Cooper threw the book down in disgust and announced, "I could write you a better book than that myself." Since Cooper disliked any writing, even letters, his wife expressed her incredulity and challenged him to make good his boast. The result was Precaution (1820).
In itself, this first book is not noteworthy, for the work is a novel of manners typical of female British writers of the period. Precaution is important, though, because it launched Cooper's literary career. He next turned his attention to an American theme, though he...
(The entire section is 3,820 words.)