Biography
(History of the World: The 17th and 18th Centuries)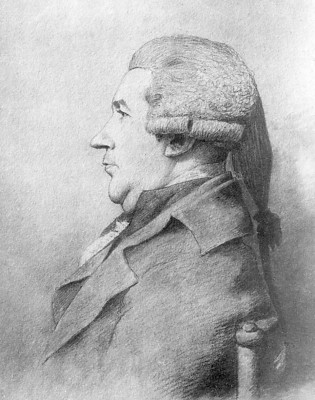 Article abstract: Boswell was not only the author of the English-speaking world's greatest biography but also a distinguished autobiographer in his voluminous journals and letters.
Early Life
James Boswell was the eldest son of Alexander Boswell of Ayrshire, a judge who, when raised to the bench of Scotland's highest court, took the courtesy title of Lord Auchinleck. Both James's parents descended from upper-class families with connections not only with nobility but also with royalty. His mother was weak and timid, while his father was a somber, stern disciplinarian who wanted his firstborn to follow him in a legal career and looked with consistent disfavor on both James's writing and his preference of London's society to Scotland's. The contour of Boswell's literary career reflects his divided allegiance between his pride in his ancient Scottish heritage and love of Highland characteristics, on the one hand, and his zestful fascination with London's intellectual and sensual enticements, on the other. This tension was to nourish his creative imagination.
From 1753 to 1758, Boswell took undergraduate arts courses at the University of Edinburgh, and then, in 1759, he was accepted to the University of Glasgow to study law. There, he much preferred the lectures on philosophy and rhetoric by Adam Smith, who had not yet published The Wealth of Nations (1776) but impressed Boswell with his Theory of Moral Sentiments (1759). In the spring of 1760, Boswell interrupted his academic term to run away for what became a three-month stay in London, during which he briefly embraced not only actresses but also the Roman Catholic faith.
Little is known about this first London sojourn, but much information is available concerning his next London trip, in 1762, for by then Boswell had begun the detailed diaries that he was to maintain for the rest of his life. Boswell's London Journal, 1762-1763 (1950) highlights his encounters with prominent politicians and writers as well as his womanizing. The book is carefully organized according to the rise-and-fall rhythms of dramatic action, with Boswell featuring himself as a talented but directionless young man, not knowing whether to become a lawyer, guards officer, or author.
As a diarist, Boswell was devoid of pomp or even dignity; he was willing to show himself a fool or a boor. The reader is beguiled by Boswell's candor, high spirits, and capacity for vivid self-portraiture. The personality he disclosed is a deeply divided one, full of contrarieties—both cocksure and insecure; romantic about love, yet rakish about women; conservative in his politics and religion, yet anarchic in his conduct.
Boswell's first year in London included the pivotal event of his life: his meeting with Samuel Johnson on May 16, 1763. The scene is memorable, as described in the greatest of literary biographies, The Life of Samuel Johnson, LL.D. (1791). Young Boswell, in his twenty-third year, having heard that Dr. Johnson frequented John Davies' bookshop, had already gone there several times in the hope of meeting Johnson. When Davies saw Johnson through the shop's glass door, his awestricken voice in announcing the doctor's arrival reminded Boswell of Horatio announcing the arrival of his father's ghost to Hamlet: "Look, my Lord, it comes." Davies introduced the men to each other, roguishly indicating that Boswell came from Scotland. Aware that Johnson despised Scots, Boswell stuttered apologetically, "I do indeed come from Scotland, but I cannot help it." Johnson slammed back, "That Sir, I find, is what a great many of your countrymen cannot help." In London Journal, 1762-1763, Boswell records no further dialogue for this encounter; in The Life of Samuel Johnson, LL.D. , however, he relates two more pages of conversation on a variety of topics. He concludes: "I was satisfied that though there was a roughness in his manner, there was no ill-nature in his...
(The entire section is 2,698 words.)