J. R. R. Tolkien Biography
J. R. R. Tolkien (the pen name of John Ronald Reuel Tolkien), was a unique, devout, and deeply learned man. And he also just happened to be the most influential fantasy author of the twentieth century. Tolkien's Lord of the Rings trilogy changed the genre forever, spawning dozens of imitators and establishing what would become the standard format for fantasy novels: current authors still create alternative cultures and realities, throw in detailed maps and invented languages, and continue story lines across multiple volumes. Tolkien's influence, however, spread far beyond the literary. The bookish and conservative don also became an inspiration to the 1960s counter-culture who saw his "Middle-earth" as embodying their ecological and communitarian ideals. It seems, then, that Tolkien's work remains the one thing that everyone can appreciate.
Facts and Trivia
Though his work is very British, Tolkien was actually born in South Africa. He moved to England with his mother and brother after his father died. Tolkien was four years old at the time.
Tolkien was a member of The Inklings, an informal but talented group of readers and writers that included C. S. Lewis and Charles Williams, two other major twentieth-century fantasists.
An immensely gifted linguist, Tolkien spoke and/or wrote Greek, Gothic, Finnish, Old English, and other languages. He also contributed to the Oxford English Dictionary and taught Anglo-Saxon at Oxford University.
Tolkien fought in World War I, serving on the Western Front. Luckily for the literary world, he contracted a typhus-like infection called "trench fever" and had to recover in England for a few months. During that period, all but one of his closest friends on the Western Front died.
Tolkien's Lord of the Rings has been adapted into cartoons, comic books, audio versions, and, in recent years, a trilogy of live-action movies directed by Peter Jackson. Jackson's film adaptations won a combined seventeen Academy Awards.
Biography
(History of the World: The 20th Century)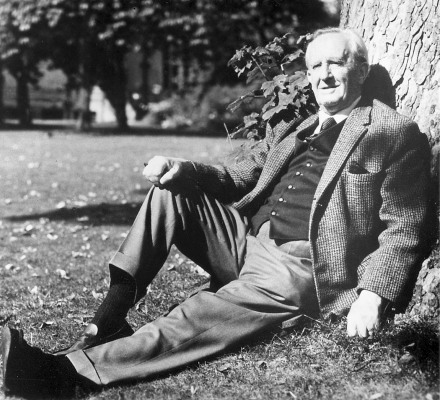 Article abstract: Contributions: Tolkien communicated the sensibility of medieval epic and romance in his widely read mythopoetic fiction. With influential articles on the Anglo-Saxon epic Beowulf and the standard edition of the fourteenth century English Arthurian fantasy romance Sir Gawain and the Green Knight, he was an important medievalist long before he became much more famous and beloved for his widely read fantasy novels The Hobbit, The Lord of the Rings, and The Silmarillion.
Early Life
John Ronald Reuel Tolkien was born on January 3, 1892, in Bloemfontein, South Africa, to Arthur and Mabel Suffield Tolkien. In 1895 they moved to Birmingham, England, to be near Mabel's family, but Arthur, a bank manager, died within the year. In 1900 Mabel scandalized the family by joining the Roman Catholic Church. After her early death in 1904, Tolkien and his brother, Hilary, lived in the house of a Mrs. Faulkner with another orphan named Edith Bratt. Tolkien and Bratt fell in love and were married in 1916 after Tolkien had completed his bachelor of arts at Exeter College, Oxford. He then served as a signalling officer during World War I as a second lieutenant in the Lancashire Fusiliers. In France he was felled by trench fever and was sent back to an English hospital, where he began his mythopoetic fiction. To the deaths of his parents and several other relatives while Tolkien was a young boy was added the loss of his fellow soldiers on and off the battlefields. The reality of mortality was established as one of the themes of both his scholarship and his fiction.
Following the war and the birth of his son, John, Tolkien worked for the Oxford English Dictionary and taught at Leeds University, where he and E. V. Gordon completed the definitive edition of the medieval romance Sir Gawain and the Green Knight (c. 1375). Ronald, Edith, and John Tolkien returned to Oxford in 1925 with two more sons,...
(The entire section is 4,172 words.)