Biography
(Great Authors of World Literature, Critical Edition)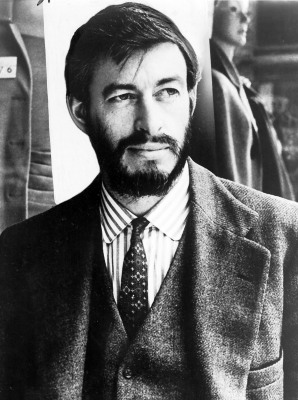 James Patrick Donleavy (DUHN-lee-vee) is best known as a satiric novelist of ribald, black comedy, although he has also written short fiction and dramatic adaptations of some of his novels. Born in Brooklyn, the son of Irish immigrants who provided him with a secure middle-class upbringing, he moved from one preparatory school to another and after graduating served in the U.S. Navy in World War II. At its conclusion, he was lured to Ireland by intrigue with his family heritage, the writings of James Joyce, and Dublin's earthy character; he entered Trinity College in 1946 to study microbiology, but he never completed his degree. After a brief stint as an artist, Donleavy returned to the United States in the early 1950's to pursue a writing career. He became disillusioned with McCarthyism and the crass, soulless materialism he saw around him, however, and returned to Europe as an expatriate American writer. He became an Irish citizen in 1967. Donleavy was married twice; he was divorced from his first wife, Valerie Heron, with whom he had two children. With his wife Mary Wilson Price, with whom he also had two children, he settled in County Westmeath, Ireland.
Donleavy's first, and most successful, novel is The Ginger Man, a book that had a rather rocky publishing history. Like many of Donleavy's works, the novel is bawdy and loosely picaresque in style and quite personal in perspective. The protagonist, Sebastian Dangerfield, is reminiscent of the author, a navy veteran attending Trinity College in Dublin on the G.I. Bill. He spends most of his time, however, indulging his appetite for sex, liquor, and various barroom antics, both violent and obscene.
As an educated, amoral derelict who beats his wife, sleeps with anyone he chooses, steals, cheats, and swindles, Donleavy's Dangerfield is a moody outlaw who challenges almost every moral and social convention imaginable. Yet with the earthiness of James Joyce and Henry Miller and the deft wit of a Restoration dramatist, Donleavy creates a darkly humorous story. Like his other works, this humorous satire of a contemporary materialistic society, dead in spirit, contains a sad undertow of Swiftian melancholy and outright despair. Donleavy's characters take the reader on an enjoyable, offensive romp through a surrealistic, Kafkaesque landscape where loneliness and death, finally, are the only certainties which give existence its uncomfortable closure.
Employing Donleavy's typical style of shifting point of view and fragmentary sentence structure, A Singular Man, most critics believe, is less engaging than The Ginger Man. It too reveals the author's concern with death and loss, telling the story of George Smith, lonely, victimized, paranoid, and living a life of material success devoid of purpose.
Both A Fairy Tale of New York and The Beastly Beatitudes of Balthazar B. continue the thematic concerns of death, loss, and despair. A Fairy Tale of New York paints a sadly comical picture of a self-destructive America, sexually mad and socially impotent. Its protagonist ironically reverses the American Dream by emigrating to Europe to escape the land of the free. The Beastly Beatitudes of Balthazar B. is written in the style of a melodramatic Victorian novel; it traces the destruction of Balthazar's innocent, idealistic vision, as the young protagonist seeks love and completion in his life. Inevitably, as Donleavy always suggests, the idyllic world will give way to a realization that the nature of life is loss, frustration, and aloneness. Nevertheless, Donleavy's power of evoking the tangible, and his obvious zest for sensual description redeem The Beastly Beatitudes of Balthazar B. for many readers. There is as well a sense of nostalgia for an Ireland that, even at the time of the book's publication, must have begun to slip away.
Sigmund Franz Isadore Schultz, the main character in Are You Listening, Rabbi Löw? , is the wealthy producer of a lowbrow...
(The entire section is 1,513 words.)