Biography
(Great Authors of World Literature, Critical Edition)
Hunter S. Thompson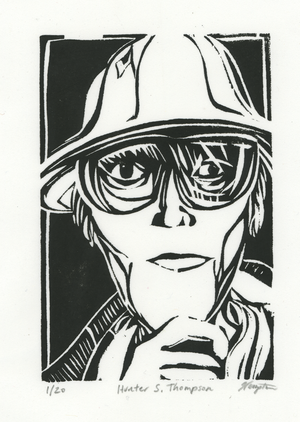 Hunter Stockton Thompson—"gonzo" journalist, legendary wild man, and would-be local politician—was born in Louisville in 1937 to Jack R. and Virginia Thompson; his father was an insurance agent. Thompson stood out as an intelligent, charismatic individual and a troublemaker in high school. He was a member of the Athenaeum, the school's prestigious literary society, but he also began to have run-ins with the law and was arrested more than once. He finally served thirty days in jail while his friends were graduating from high school.
Thompson joined the Air Force in 1955 and was stationed at Eglin Air Proving Ground in Florida, where he began writing entertaining sports articles for the base newspaper. He soon chafed under the restrictions of military life, however, and he managed to get his separation papers in 1957. Thompson moved to New York, where he worked as a copyboy for Time-Life, read F. Scott Fitzgerald, Ernest Hemingway, and William Faulkner, wrote fiction, and met Sandy Dawn Conklin, the woman he would marry in 1963. He soon went west to Big Sur, California. Then, in 1962, he moved to Brazil and wrote pieces for the National Observer, truly beginning his life as a journalist.
Returning to the United States, he moved to San Francisco in 1964, after having bought property (Owl Farm) in Woody Creek, Colorado, near Aspen. His and Sandy's son, Juan Fitzgerald Thompson, was born in March of 1964. In California Thompson received an offer to write a magazine piece about the notorious motorcycle gang Hell's Angels; the article spawned book offers, eventually coming to fruition as Hell's Angels. Thompson, an inveterate motorcyclist, spent considerable time riding and partying with the Angels. The book was well received.
The frenetic style for which Thompson became famous, "gonzo journalism," was born in a piece written for Scanlon's Monthly, "The Kentucky Derby Is Decadent and Depraved," published in the fall of 1970. Thompson had found himself unable to complete the article and, with the deadline upon him, gave pages of handwritten notes to the magazine, which published them essentially as they were—disjointed and frantic, with the "journalist's" descriptions of his own actions and feelings more important than the event he was supposed to have been covering. Gonzo journalism is Thompson's form of participatory journalism, and his style projects an on-the-edge immediacy.
Also in 1970, Thompson began a five-year stint as the "national affairs editor" at Jann Wenner's Rolling Stone, then a newspaper-style weekly. Many of his signature pieces were first published in the magazine through the years. Fear and Loathing in Las Vegas appeared serially in Rolling Stone beginning in 1971.
Fear and Loathing in Las Vegas is a work like no other, a conflation of real events and exaggerated paranoid fantasies, and a description of alcohol and recreational drug use of preposterous proportions. Mexican American activist and attorney Oscar Zeta Acosta accompanied Thompson on his trip to Las Vegas, which in reality was an attempt to get away from Los Angeles to finish a story they were working on for Rolling Stone. Acosta is referred to as Thompson's "Samoan attorney" and as Dr. Gonzo in the book, and Thompson adopts the persona of sportswriter "Raoul Duke"; the use of thinly fictionalized personas is one of Thompson's characteristic techniques in his writing and life (he often calls himself Dr. Thompson, for example, although he has no college degree of any sort).
A review in The New York Times called the book "a kind of mad, corrosive prose poetry" and placed Thompson among writers such as Norman Mailer and Tom Wolfe. Both loved and reviled, the book has sufficiently stood the test of time to be reissued in 1996 as part of the Modern Library series. Thompson, as the Rolling Stone editors saw immediately, wrote in his own voice, "inventing his own vocabulary,"...
(The entire section is 1,552 words.)