Critical Overview
(Nonfiction Classics for Students)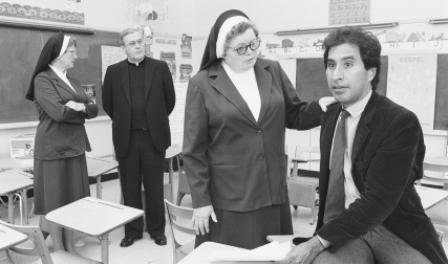 Rodriguez's Hunger of Memory: The Education of Richard Rodriguez was published in 1981 to a great fanfare of publicity. Here was a young Mexican American who resisted being called a minority and condemned affirmative action programs even though he had benefited from them. He accepted the gulf that lay between his parents and himself as the price immigrants must pay to become assimilated into American culture. And he admitted that when he saw other Hispanic students and teachers on campus striving to maintain their ethnicity and culture by demanding such things as Chicano studies departments and minority literature classes, he was confused. Many critics denounced him as a traitor to his heritage, while others saw him as a clear-headed voice against the political excesses of the 1960s and 1970s.
Paul Zweig, reviewing Hunger of Memory in The New York Times Book Review, acknowledges that Rodriguez's ''superb autobiographical essay'' will be ''a source of controversy.'' But he chooses, instead, to focus on the book's literary qualities, calling it ''an example of a peculiarly modern sort of book, standing in an honorable tradition that includes Wordsworth's Prelude and Proust's Remembrance of Things Past.'' Rodriguez's story of growing up and moving away from his family is a universal one, argues Zweig, which Rodriguez relates with great success.
In fact, Ilan Stavens in Commonweal calls Hunger of Memory ''a Whitmanesque 'song of myself,' a celebration of individuality and valor in which, against all stereotypes, a Mexican-American becomes a winner.'' Rodriguez's book is a highly personal meditation, and ''his voice is alienated, anti-Romantic, often profoundly sad,'' according to Stavens. Stavens also praises Rodriguez's literary skills, referring to him as ''an extraordinary writer.''
Other critics, however, are not as charmed by Rodriguez's language and story of ''making it'' in middle-class America. Carlos R. Hortas, in an article for Harvard Educational Review, asserts that Rodriguez is ashamed that he has ''cast aside his Hispanic self, and for this he seeks forgiveness.'' Hunger of Memory is, in Hortas' eyes, Rodriguez's apology for his life and an admission of guilt. ''To be an 'American,''' argues Hortas, ''one should not have to divorce oneself from one's ethnic culture and heritage.'' As well, he accuses Rodriguez of not understanding the ''aims of bilingual education.''
G. Thomas Couser, in the book Altered Egos: Authority in American Autobiography , agrees that Rodriguez's arguments against bilingual education are flawed and that he is at his best when his writing is more personal. ''His views on bilingualism do not cohere or convince. His narrative is certainly better at describing the pain that attended his progressive alienation from the intimacy of his Hispanic...
(The entire section is 675 words.)