Biography
(Great Authors of World Literature, Critical Edition)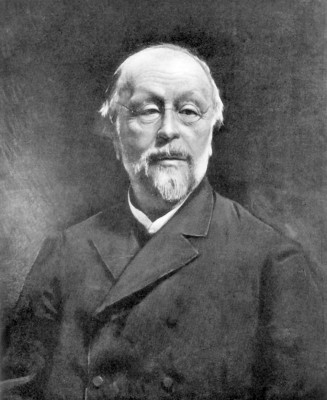 Hippolyte-Adolphe Taine (tehn), born at Vouziers, France, on April 21, 1828, was educated at the Collège Bourbon and the Normal School in Paris. By 1848 he had two baccalaureate degrees, one in science and one in letters. After leaving school he became a teacher at Toulon, but because of his political views he was appointed to successively poorer posts until he left teaching entirely in 1852 and devoted his time to study and writing. In 1853 he completed his Essai sur les fables de La Fontaine (essay on the fables of La Fontaine), written as the thesis for his doctorate at the Sorbonne. He immediately began an essay on Livy, which, entered in competition, won for him an award from the French Academy in 1855. Early in 1854, however, Taine had suffered a breakdown in health because of his arduous program of writing.
After a period of enforced rest he resumed his literary activities, contributing articles on various subjects to periodicals and entering literary society. One series of articles, published as Les Philosophes classiques du XIX siècle en France (the classic philosophers of the nineteenth century in France), first suggested Taine's theory of the application of scientific methods to psychological and metaphysical research. The book attracted considerable interest and helped to spread the author's critical fame. A revised version of his doctoral essay on La Fontaine was published in 1861.
In 1864 Taine received two appointments, both of which gave him security and left him free to study and write. He became examiner at Saint-Cyr and professor of aesthetics and art history at L'École des Beaux Arts. In the same year he published a study of John Stuart Mill, English Positivism. In the meantime his famous History of English Literature had appeared, a work illustrating how determinism could be applied to the study of literature by utilizing the elements of race, milieu, and moment. From 1864 to 1870 Taine fulfilled his tasks at Saint-Cyr and lectured at L'École des Beaux Arts. A general study of the philosophy of art appeared in 1865, followed by volumes on various phases of art and the philosophy of art. He married the daughter of an architect in 1868.
The Franco-Prussian War ended that happy period in Taine's life and turned his thinking to new paths. Anxious to ascertain the cause of France's weakness and political instability, and feeling that they were traceable to the French Revolution of 1789, Taine began what was to be his greatest work, his study of the origins of contemporary France. He worked at it constantly, even giving up his professorship in 1884 to avail himself of more time; even so, he left it unfinished when he died in Paris in 1893. The methods that Taine used in this work were the same quasi-scientific and deterministic methods he had already used successfully in his studies of literature and art. The book marked Taine as one of the great intellectual leaders of the nineteenth century, the leader of a generation in France that sought in art, literature, and history truth that could be regarded as "objective" and "scientific."
Early Life
(19th-Century Biographies)
Hippolyte-Adolphe Taine was twelve years old when his father, an established attorney, died. Left with a modest inheritance and scholarly inclinations, the young man was sent to a boarding school in Paris. He loved learning and soon revealed a mind superior to both his fellow students and his teachers. Deeply influenced by the philosopher Baruch Spinoza, Taine had lost his religious faith by the age of fifteen. He took a naturalistic view of the world, in which the human intellect and nature are viewed as parts of a single process. History, if it was examined carefully, revealed a total structure that functioned on the same principles as nature. Consequently, societies grew and declined in an organic manner as did natural phenomena, and the historian or philosopher could find the laws of society,...
(The entire section is 1,755 words.)