Biography
(History of the World: The 19th Century)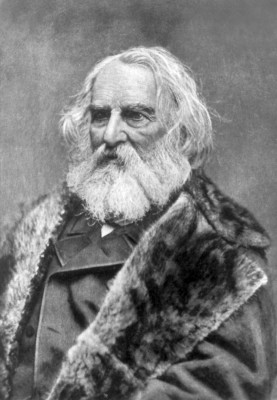 Article abstract: Besides working to establish the study of modern languages and comparative literature in the United States, Longfellow became the most popular of all living poets during his time.
Early Life
The second of Stephen and Zilpah Wadsworth Longfellow's eight children, Henry Wadsworth Longfellow was born on February 27, 1807, in Portland, Maine, while Maine was still a part of Massachusetts. As a member of a loving, prosperous, and distinguished Unitarian family, the future poet seems to have had a happy childhood that included the scenes he would describe in "My Lost Youth." He was a gentle, precocious boy who started school when he was three. At the age of six, he enrolled in the Portland Academy, where he was still a student when, on November 17, 1820, "The Battle of Lovell's Pond," his first published poem, appeared in the Portland Gazette with merely "Henry" given as the author's name. His work did not receive unanimous acclaim: That evening, he heard a family friend disparage the poem.
In 1821 Longfellow passed the entrance examination for Bowdoin College; however, maybe because of his age, he remained at the Portland Academy another school year while working for college credit. It was not until the fall of 1822 that Longfellow, with his older brother, left home to study on the campus in Brunswick, Maine. While at Bowdoin, he studied hard, read avidly, joined a college literary club known as the Peucinian Society, had poems published in several off-campus periodicals, and, in 1825, graduated fourth in a class of thirty-eight.
As graduation approached, Longfellow feared that he would have to follow his practical-minded father's wish and study law instead of pursuing a literary career, but the Bowdoin trustees offered him the new professorship of modern languages, provided that he study in Europe at his own expense to prepare himself for the job. Having accepted the opportunity gladly, Longfellow sailed from New York on May 15, 1826, at the age of nineteen.
Life's Work
When his ship docked in France one month later, Longfellow began acquiring a knowledge of modern European languages and literature that would serve him well as a widely read author and translator. Although his intellect was hardly provincial before the voyage, his long, early visit to Europe made him a literary man of the world. His method of study was mainly one of informal immersion in the ordinary life of the countries he visited: France, Spain, Italy, Austria, Germany, the Netherlands, Belgium, and England.
Beginning his duties at Bowdoin in the fall of 1829, Longfellow became one of the first professors of modern languages in any U.S. college, since the traditional emphasis in languages had been on Latin and ancient Greek. As an innovative, enthusiastic teacher who could not find suitable materials, he had to translate or edit textbooks for his classes, trying to make modern European literature interesting for his students. During this period at Bowdoin, Longfellow put aside his ambition for fame as a creative writer and devoted himself more to scholarly articles than to poems and prose stories. His interest turned also to courtship, and on September 14, 1831, he married Mary Potter, an educated, intelligent, nineteen-year-old girl from his hometown.
Even before his wedding, Longfellow had grown dissatisfied with teaching at Bowdoin. By 1832 he was applying for other jobs, including ones outside the field of higher education. Then Longfellow, talented as he was, again had the sort of good luck that had let him avoid life as a lawyer: George Ticknor, who taught modern languages at Harvard, resigned his position and recommended Longfellow as his replacement. The Harvard administration accepted Ticknor's recommendation, with the inclusion of their own recommendation that Longfellow travel again to Europe, this time to enrich his knowledge of German. Having resigned from...
(The entire section is 2,522 words.)