Biography
(History of the World: The 17th and 18th Centuries)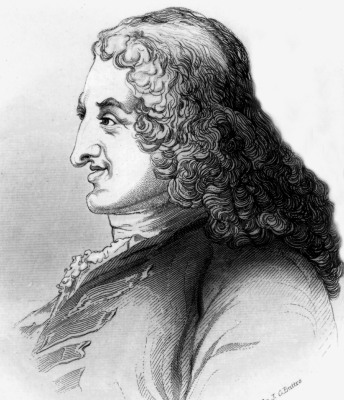 Article abstract: Although he was an effective journalist and a successful dramatist, and although with his brother John he was responsible for establishing the London police force which developed into Scotland Yard, Fielding's major contribution was in the development of the novel as a carefully plotted form with fully developed characters, dramatic scenes, and serious intent.
Early Life
Henry Fielding was born April 22, 1707, at the home of his mother's father near Glastonbury in Somersetshire. His ancestry was distinguished. His father was related to the Earl of Denbigh and to Lady Mary Pierrepont (Lady Mary Wortley Montagu), who later encouraged his literary efforts. His paternal grandfather was Archdeacon of Dorset and a chaplain of King William. Following a family tradition, Henry Fielding's father, Edmund, became a military officer, serving under the Duke of Marlborough at Blenheim and rising eventually to the rank of lieutenant general. Henry's maternal grandfather was a judge of the Queen's Bench, Sir Henry Gould. Although the match between Sarah Gould and Edmund Fielding was an elopement, evidently the judge was reconciled to the match; nevertheless, he took steps to guard his daughter's inheritance from her rather imprudent husband.
Henry was born the year after Sarah and Edmund were married; six other children followed in rapid succession, five daughters and a son. (It was the third daughter, Sarah, who was so close to Henry in later years.) The children were reared on a country estate in Dorsetshire, living a happy life, despite the frequent absence of their restless father, until their mother's death in 1718. After the colonel's remarriage to a woman of dubious social rank, a Roman Catholic as well, the children were placed in various schools to remove them from the unhappy home environment and finally became wards of their grandmother. Henry remained on good terms with his father, as well as with his grandmother. At Eton, he developed a love of the classics, which was later consistently reflected in his works. There, too, he grew into a tall, well-built, graceful man, with brown hair and sparkling eyes which suggested his habitual optimism. Fielding's intelligence, his fascination with human nature, and his perception of the comic side of life were already evident; these qualities would pervade the later poems, pamphlets, plays, and novels which he wrote.
Choosing not to proceed immediately to a university, Fielding lived the life of a gentleman of leisure for several years after leaving Eton. Alternating between country life with his grandmother and exciting visits to London, he postponed the decision as to his life's work. Probably he studied some law; certainly he continued to read and to write. He was unsuccessful in the planned abduction of an heiress in Lyme Regis; he was more successful in charming his cousin, Lady Mary Wortley Montagu, who enjoyed his enthusiasm and encouraged his writing. Because she was one of the most interesting women in London, the friend of wits and nobles alike, she could help her young relative both with advice and with influence. Early in 1728, Fielding's poem "The Masquerade" appeared, supposedly written by Jonathan Swift's character, Lemuel Gulliver. Not surprisingly, it was a burlesque. Less than three weeks later, Fielding's comedy Love in Several Masques was produced. It was dedicated to Lady Mary.
Despite his success in London, Fielding now decided to complete his education and enrolled in the University of Leyden. At the end of a year and a half, his father was evidently unable to continue remittances, and Henry returned to London, faced with the necessity of earning his own living. As he later remarked, he had to choose between being a hackney writer and a hackney coachman. He chose to write. For him, and for the English novel, it was a momentous decision.
Life's Work
During the...
(The entire section is 2,696 words.)