Discussion Topics
(Masterpieces of American Literature)
What does Leon Edel mean by classifying Walden as an "imaginary voyage"?
The first chapter of Walden is called "Economy." What meanings of the word are applicable in this chapter, and what is Henry David Thoreau's purpose in beginning the work in this way?
How does Thoreau use time as a unifying device in Walden?
How does Thoreau's concept of Transcendentalism differ from that of Ralph Waldo Emerson?
What qualities of the essay "Civil Disobedience" have made it so extraordinarily influential?
How did Thoreau's journal serve him?
What has made Thoreau's journal such a popular work with dedicated Thoreauvians?
Other literary forms
(Poets and Poetry in America)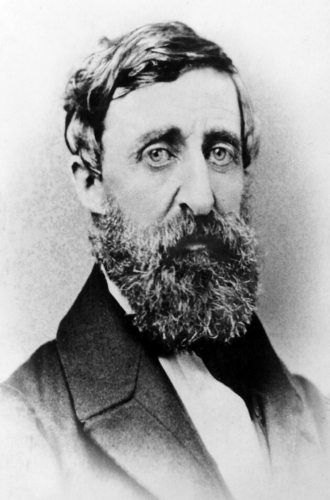 Henry David Thoreau (thuh-ROH) published two books during his lifetime: A Week on the Concord and Merrimack Rivers (1849) and Walden: Or, Life in the Woods (1854). Three additional books edited by his sister Sophia and his friend William Ellery Channing were published soon after his death: a collection of his travel essays titled Excursions (1863), The Maine Woods (1864), and Cape Cod (1865). During his lifetime, Thoreau also published essays in various periodicals. They were generally of three kinds: travel essays such as "A Yankee in Canada," nature essays such as "Walking," and social and political essays such as "Life Without Principle" and "Civil Disobedience." Those essays are collected in the standard "Walden" edition of Thoreau's complete writings, and the best of them are generally available today in paperback collections. Thoreau also dabbled in translations and occasionally published in The Dial his translations of Greek and Roman poetry. Perhaps Thoreau's greatest literary work, however, is his journal, which he kept throughout most of his adult life and most of which is available in the last fourteen volumes of the "Walden" edition of his collected writings. A portion of the journal from 1840 to 1841 was omitted from the collected writings but was later edited and published by Perry Miller in Consciousness in Concord (1958). Also not included in the collected writings were portions of the journal dealing with Thoreau's first trip to Maine and portions that Thoreau himself cut out for use in his books. The Princeton University Press brought together Thoreau's journals in a more unified way in Journal, a seven-volume edition published between 1981 and 2002.
Achievements
(Poets and Poetry in America)
During his own lifetime, Henry David Thoreau met with only modest literary success. His early poems and essays published in The Dial were well known and appreciated in Transcendentalist circles but were generally unknown to popular audiences. As a lecturer, his talks were appreciated by the most liberal of his audiences but were generally found to be obscure or even dangerous by more conservative listeners. Thus, he had brief spurts of popularity as a lecturer, particularly in 1859 to 1860, but was not generally popular on the lecture circuit. His first book, A Week on the Concord and Merrimack Rivers, was published in 1849 at his own expense in an edition of one thousand copies. It met with very little success; only 294 copies were sold or given away, while the remaining copies were finally shipped four years later to Thoreau himself, who sarcastically remarked in his journal, "I have now a library of nearly nine hundred volumes, over seven hundred of which I wrote myself: Is it not well that the author should behold the fruits of his labor?" Although A Week on the Concord and Merrimack Rivers carried an advertisement of the forthcoming publication of Walden, the failure of the first book prompted Thoreau to withhold publication of the later one until he could feel more certain of its success. After much revision, Thoreau published Walden in 1854. It met with generally favorable reviews and good sales, over seventeen hundred copies of an edition of two thousand being sold in the first year. By 1859, it was out of print, but it was reissued in a second edition shortly after Thoreau's death.
(The entire section is 1,536 words.)