Biography
(Masterpieces of American Literature)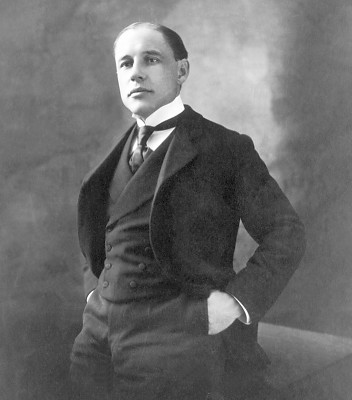 Henry Brooks Adams, who dropped his middle name at age thirty-two, was born in Boston on February 16, 1838, the child of the writer and politician Charles Francis Adams and the homemaker Abigail Brooks Adams. The fourth of seven children, Henry came from an impressive New England family: He was grandson to John Quincy Adams, who was still alive during his childhood, and great grandson to John Adams; both men had been American presidents. This legacy of achievement bestowed a lifelong, influential sense of familial obligation on Adams at a very early age.
While young, Henry Adams, like his siblings, profited immensely from the liberal and intellectual atmosphere at home. By opening his huge library to him, his father gave Henry early access to works of literature and history. Soon, the quiet and observant boy watched his father work and converse with his political friends. Adams entered Harvard College in 1854 and graduated with a bachelor of arts degree in 1858. Looking back later, Adams did not think Harvard worthwhile; however, it gave him the intellectual background common to the elite of his time. The new Harvard Magazine also offered him an outlet for his first writing and awarded him with its editorship.
Following graduation, Adams went to Europe, where, while writing for the Boston Daily Courier in 1860, he scored a minor coup with an interview of Italian rebel leader Giuseppe Garibaldi. After his move to Washington, D.C., in the fall of 1860, Adams matched his writing powers with his interest in politics. As private secretary to his father, a congressman, he combined access to information and journalistic skill in his work for the Bostonian Daily Advertiser. "The Great Secession Winter, 1860-1861," was his dramatic summary of the secession of the South.
The appointment of his father as minister to the English court in 1861 gave Adams an inside view of global politics and a larger share of responsibility. Working for a while as an anonymous correspondent for The New York Times, Adams soon began to broaden the scope of his pen to move beyond politics to science, history, and economics. Combining a journalist's eye for the topical with a scholar's emphasis on knowledge and intellectual vigor, his articles soon attracted notice within the transatlantic intellectual community.
Adams's return to the United States in 1868 saw him becoming an important political journalist in Washington, where he wrote for reform and lambasted corruption. A few years later, however, he followed familial advice by accepting the professorship of medieval history at Harvard. From then on, his involvement in politics would remain indirect: Even though he continued to comment on current issues as an outspoken writer and as editor of the North American Review from 1870 to 1876, he would never hold political office.
Adams married Miriam "Clover" Hooper in 1872. He resigned from Harvard in 1877 to go back to Washington to write The Life of Albert Gallatin (1879), the biography of President Thomas Jefferson's secretary of the treasury, whom Adams celebrated for his moral uprightness. Moving directly across from the White House in 1879, then relocating a few yards down the street in 1885, Adams made his home the social center for an exclusive group of influential friends. Based there, he became an incessant traveler and would see the Far East, the South Seas, and the Caribbean region; further, he undertook regular visits to Europe that, from 1899 to 1911, included annual summer stays in Paris.
His intimate knowledge of power politics made Adams's first (anonymously published) satire, Democracy: An American Novel, an instant success in 1880. A second work, Esther: A Novel , followed in 1884, but Adams's prohibition of all advertisement made it virtually unknown to the public. The suicide of his wife, with whom he had enjoyed a loving marriage, on December 6, 1885, visibly shook Adams. The young Elizabeth Cameron, wife...
(The entire section is 2,078 words.)