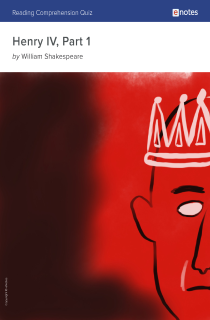 Henry IV, Part 1 Reading Comprehension Quiz
by eNotes
Release Date: September 18, 2019
Subjects: Language Arts and Literature
Age Levels: Grade 10, Grade 11, Grade 12, and Grade 9
Pages: 22
Purchase a Subscription
Excerpt
This quiz contains reading comprehension questions for Henry IV, Part 1.
About
Our eNotes Reading Comprehension Quizzes have been designed to provide students with more than a simple review of the text. Each is meant to check that students have comprehended the text and are prepared to discuss it. Each quiz contains the following:
Reading comprehension questions covering each chapter or manageable ranges of chapters
A comprehensive answer key
In completing these quizzes, students will be able to demonstrate their understanding of the assigned reading.