Harriet Beecher Stowe Biography
Harriet Beecher Stowe published Uncle Tom's Cabin in 1852. Her abolitionist novel is often credited with promoting so much empathy for slaves from readers in the North and so much anger from readers in the South that it was an instigator of the Civil War. Stowe's family was instrumental in her own development as an antislavery advocate. Her father, Lyman Beecher, was a prominent abolitionist preacher, and her brother was the very famous minister Henry Ward Beecher. Although she had concentrated on being a wife and mother for a number of years, the passage of the Fugitive Slave Law in 1850 (which allowed escaped slaves to be returned to their "masters") so incensed Stowe that she felt it was her duty to write the novel. She died in 1896 at the age of 85.
Facts and Trivia
Upon meeting Harriet Beecher Stowe, Abraham Lincoln reportedly said, "So you're the little woman who wrote the book that started this Great War!"
Uncle Tom's Cabin is the first American novel to have an African American protagonist.
Reflecting years later on her purposes in writing the novel, Stowe said in her journal, "I wrote what I did because as a woman, as a mother I was oppressed and brokenhearted with the sorrows and injustice I saw, because as a Christian I felt the dishonor to Christianity, because as a lover of my country I trembled at the coming day of wrath."
Although Stowe's intentions in creating her novel may have been altruistically motivated, many African Americans feel that being called an "Uncle Tom" is a slur of the worst order. Many find the title character to be the epitome of submissiveness.
In 1870, Stowe created an integrated school for both children and adults in Mandarin, Florida, a move toward integration that would not truly be realized in America for another fifty years or more.
Before her death, Stowe was probably suffering from dementia. She not only believed herself to be writing Uncle Tom's Cabin for the first time, rewriting whole passages unconsciously from memory, but would wander into other people's houses. In Mark Twain's autobiography (who lived nearby) he described her sneaking up behind people, in their own homes, and suddenly shouting, or coming inside and playing the piano, "singing ancient and melancholy songs with infinitely touching effect."
Biography
(History of the World: The 19th Century)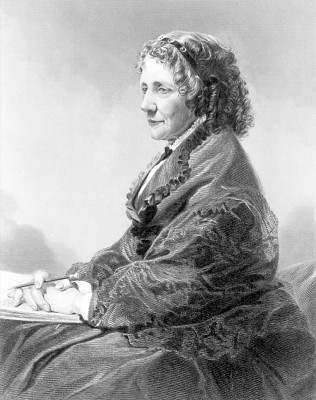 Article abstract: Stowe's popular novel Uncle Tom's Cabin attacked slavery as a threat to the Christian family and helped to end this institution in the United States. In this and later novels, Stowe wrote as an early advocate for women—one who wished to help them by creating a "women's sphere" in the home.
Early Life
Lyman Beecher, Harriet Beecher's father, was a stern New England Calvinist preacher whose image of a God who predestined humans to heaven or hell left a mark on his children. The fact that Harriet's mother died when she was four made Harriet's father's influence even more important. By the age of six and a half, the young "Hattie," as she was known to her family, had memorized more than two dozen hymns and several long chapters in the Bible. As an adult, however, Harriet Beecher would substitute for her father's dogmas a religion of hope that stressed the love and compassion of Christ rather than the divine judgment that her father preached. Some people hold that she "feminized" her father's religion. Throughout her life, she retained a strong sense of religious mission and zeal for social improvement.
At age twelve, Harriet moved to Hartford to live with her older sister Catharine, a purposeful woman who had started the Hartford Female Seminary. Harriet attended Catharine's school and stayed on as a teacher and guardian of young children. In 1832, she moved with her family to Cincinnati, Ohio, where her father had been offered the post as president of the new Lane Theological Seminary. Three years after arriving in Cincinnati (in...
(The entire section is 2,604 words.)