Discussion Topics
(Masterpieces of American Literature)
Does Uncle Tom's Cabin levy blame on the North as well as on the South?
What qualities in Uncle Tom's Cabin give this book so much more impact than all other antislavery literature of the time (including Harriet Beecher Stowe's own Dred: A Tale of the Great Dismal Swamp)?
Is it profitable to argue about the literary merits of Uncle Tom's Cabin?
Stowe wrote several novels set in New England. What are her preoccupations in these books?
Had she lived in the twenty-first century, Stowe might very well have chosen to be something other than a novelist. On the basis of the interests displayed in her books, what occupation might she have pursued?
Other literary forms
(Survey of Novels and Novellas)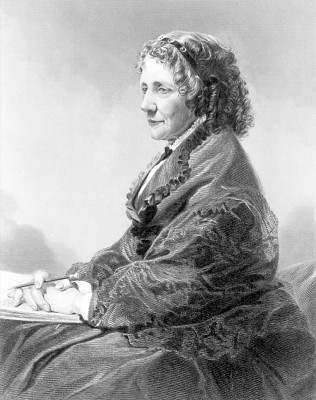 In 1843, Harriet Beecher Stowe (stoh) gathered a number of her sketches and stories into a volume called The Mayflower: Or, Sketches of Scenes and Characters of the Descendants of the Pilgrims (1843). For forty years thereafter, she published short fiction and miscellaneous essays in magazines. In A Key to Uncle Tom's Cabin (1853), she assembled a mass of sources and analogues for the characters and incidents of her most famous novel. Her 1869 Atlantic Monthly article "The True Story of Lady Byron's Life" and a subsequent elaboration, Lady Byron Vindicated (1870), caused a sensation at the time. She also published a geography for children (1833, her earliest publication, issued under her sister Catharine's name), poems, travel books, collections of biographical sketches, and a number of other children's books.
Stowe's stories and sketches remain readable. Her best collection, Sam Lawson's Oldtown Fireside Stories (1872), differs from the novel Oldtown Folks mainly in that it has little in the way of plot. Selections from Stowe's frequently long and chatty letters can be found in the Life of Harriet Beecher Stowe (1889), written by her son, Charles Edward Stowe, and in more recent biographies, but hundreds of her letters remain unpublished and scattered in various archives.
Achievements
(Survey of Novels and Novellas)
Known primarily today for her antislavery novel Uncle Tom's Cabin, Harriet Beecher Stowe also interpreted the life of her native New England in a series of novels, stories, and sketches. Along with Ralph Waldo Emerson and Oliver Wendell Holmes, she contributed to the first issue of The Atlantic Monthly (November, 1857) and for many years thereafter contributed frequently to that Boston-based magazine. As an alert and intelligent member of a famous family of Protestant ministers, she understood the Puritan conscience and outlook as well as anyone in her time, and as a shrewd observer of the commonplace, she deftly registered Yankee habits of mind and speech. All of her novels feature authentic New England characters; after Uncle Tom's Cabin and Dred, she turned to settings that included all six New England states. Despite a contradictory idealizing tendency, she pioneered in realism.
One of the first American writers to apply a talent for dialect and local color to the purposes of seriousnarrative, Stowe exerted a strong influence on Sarah Orne Jewett, Mary Wilkins Freeman, and other regionalists of the later nineteenth century. Without a doubt, however, her greatest achievement was the novel that, beginning as an intended short serial in a Washington antislavery weekly, the National Era, forced the American reading public to realize for the first time not only that slavery was a national problem but also that slaves were people with hopes and aspirations as legitimate as their own. Critics as diverse as Henry Wadsworth Longfellow, Heinrich Heine, William Dean Howells, and Leo Tolstoy in the nineteenth century, and Edmund Wilson and Anthony Burgess in the twentieth, have used superlatives to praise Uncle Tom's Cabin.
Bibliography
(Masterpieces of American Literature)
Adams, John R. Harriet Beecher Stowe. Boston: Twayne, 1989. An introduction to the life and works of Stowe. Includes bibliographical references and an index.
Ammons, Elizabeth, ed. Critical Essays on Harriet Beecher Stowe . Boston: G. K. Hall, 1980. This useful collection...
(The entire section is 1,168 words.)