Biography
(Great Authors of World Literature, Critical Edition)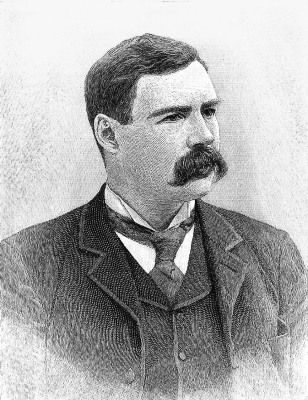 If, as Harold Frederic scholar Thomas F. O'Donnell points out, Pulitzer Prizes had been awarded in the late 1880's and 1890's, Frederic would certainly have been a strong contender for at least three of them. One of America's first and most successful foreign correspondents, he would not have been impressed to be honored for reportage, but he would have warmed to recognition as the author of The Damnation of Theron Ware, which was hailed as the novel of the year 1896 by critics on both sides of the Atlantic. Frederic never won a prize for his journalism or his novels, however, and despite the bold marks he left on both Gilded Age America and late nineteenth century Europe—which he knew better than any other American of his generation—he was all but forgotten soon after his death at the age of forty-two.{$S[A]Forth, George;Frederic, Harold}
Frederic was the son of Henry deMotte Frederic, who died when his son was only eighteen months old. Young Frederic experienced a poverty-stricken boyhood. Starting as an office boy for the Utica Observer, however, he progressed rapidly in the newspaper world and became editor-in-chief of the Albany Evening Journal in 1882. Two years later he joined the staff of The New York Times as London correspondent and never returned to the United States. Although Frederic remained typically American, not caring greatly for European culture and never bothering to learn a foreign language, he became an extremely efficient European reporter. He made a trip through the cholera-stricken areas of southern France and Italy, in which he wrote extensively on what he saw, and in 1891 he went to Russia to investigate the persecution of the Jews. The result of that trip was The New Exodus: A Study of Israel in Russia. The bitterness with which he reported the situation caused him thereafter to be virtually excluded from Russia. Like other journalists of the period, he became interested in the personality of William II and wrote a study of that controversial monarch.
In addition to his journalistic reporting, Frederic produced ten volumes of fiction. He wrote carelessly and hurriedly, sometimes as much as four thousand words a day. His early books were local color novels of the Mohawk Valley region; he then turned to historical novels of the American Revolution and the Civil War (The Copperhead), treating his materials with more realism than was common at the time.
His one important novel, and the only one that continues to be read, is The Damnation of Theron Ware, which had considerable influence on subsequent American fiction, particularly on the work of Sinclair Lewis, who refers to it in Main Street as a favorite of his heroine. In this novel Frederic incorporated two themes that were further developed by later writers: the cultural barrenness of the American small town and the hypocrisy of much of American Protestantism. The novel is an ancestor of both Main Street and Elmer Gantry. Frederic shocked many readers when he made his pathetic hero a Methodist minister, but he shrewdly grasped the weakness of a large segment of the American Protestantism of his time, its narrow-mindedness and its lip service to moral platitudes. Theron Ware, a product of this starved environment, catches, through the Roman Catholic members of his community, a glimpse of a world beyond that of the American small town, yet his heritage debars him from entering this world and brings him to ruin when he tries to do so. In this study of the last stages of Puritanism, Frederic took an important step away from the popular romantic fiction of his day toward a more realistic treatment of American life.
After decades of neglect, a new period of reassessment of Frederic's work began in the 1960's. In 1963 Stanton Garner began organizing the Harold Frederic Edition, which began to produce scholarly texts of Frederic's novels, correspondence, and other writings.
Biography
(Survey of Novels and Novellas)
Harold Frederic was born on August 19,...
(The entire section is 2,238 words.)