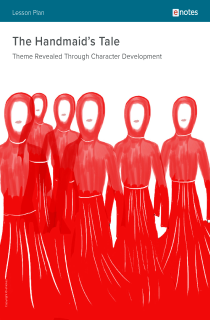 The Handmaid's Tale Character Analysis Lesson Plan
*This download is only available with the eNotes Teacher's Subscription
Purchase a Subscription





24 pages
Language Arts,
Literature
For:
Grade 9
Grade 10
Grade 11
Grade 12
Excerpt From This Document
Theme Revealed Through Character Development:
This lesson plan focuses on Offred and Moira as character foils. Students will identify similarities and differences between Offred and Moira and analyze how each character responds to the dangers of rebellion versus the safety of compliance with authority. By studying Offred and Moira as character foils, students will be better able to describe themes in the novel.
Learning Objectives: 
By the end of this lesson, students will be able to 
define and explain character foils in literature; 

describe Offred and Moira as character foils; 

compare and contrast Offred's and Moira's feelings, thoughts, and behaviors; 

identify and describe major themes that emerge from Atwood's characterizations of Offred and Moira.
Skills: close reading, character analysis, comparing, contrasting, drawing themes from the text, collecting evidence through internal research
Common Core Standards: RL.1, RL.2, RL.3, SL.1
Introductory Lecture:
Margaret Atwood was already an established author by the time she published The Handmaid's Tale in 1985. Her first two books of poetry, Double Persephone (1961) and The Circle Game (1966), were highly acclaimed—the first winning the EJ Pratt Medal and the second winning the Governor General's Award. Her fourth novel, Life Before Man (1979), was a finalist for the Governor General's Award.
While Atwood was gaining critical attention, the Western world was in the grip of social and political conservatism—largely as a reaction against increased spending on social programs and growing cultural permissiveness in the 1960s and the 1970s. Conservatism was particularly intense in the United States; President Ronald Reagan's 1980 election set back multiple social policies, effectively exacerbating poverty. Fundamentalist Christian groups like the Moral Majority grew to have profound political sway.
Contemporary radical feminism, which sought to dismantle patriarchy in order to liberate women from oppression, also contributed to the emboldening of religious fundamentalism. Conservatives considered radical feminism be both anti-man and anti-family. However, religious conservatives attempted to demonstrate their support of women by siding with anti-pornography feminists, who objected to pornographic media because of its dehumanizing portrayal of women. Religious fundamentalists advocated for censoring pornography on moral grounds. Far-right ideology and the threat of censorship of any kind, even seemingly on behalf of women, inspired Margaret Atwood to conduct a literary experiment: The Handmaid's Tale.
The Handmaid's Tale takes place in the fictional Republic of Gilead, a theocracy established after a group of religious fundamentalists called the Sons of Jacob overthrow the United States government. Society has been reorganized around reproduction in order to combat the declining birthrate, and women have been stripped of their rights. The narrator, Offred, describes her miserable life as one of the Handmaids in Gilead, fertile women forced into surrogacy for wealthy couples who cannot conceive. While exploring themes of freedom, tyranny, rebellion, and compliance with authority, Atwood speculates about life in a dystopian society that subverts religion in order to subjugate and control women's minds and bodies.
The Handmaid's Tale received critical acclaim when it was initially published in 1985, winning the Governor General's Award that same year. The novel was also nominated for the Nebula Award in 1986 and won the Booker Prize in 1986, the Prometheus Award in 1987, and the first Arthur C. Clarke Award in 1987. However, not all critics were impressed. The New York Times's Mary McCarthy declared it "powerless to scare" because Atwood's writing is "indistinguishable from [her] normal way of expressing herself in the circumstances." The San Francisco Chronicle's Alix Madrigal dubbed Gilead "a hodgepodge" that is not "recognizably Christian" and that borrows heavily from other historically repressive regimes. Nevertheless, the book has had profound influence. It is still included in high school Advanced Placement English classes and has been adapted for film. It was also adapted into a critically-acclaimed television series on Hulu in 2017.
The novel's themes of rebelliousness versus compliance in an oppressive society is played out in the characters of Offred and Moira, Offred's best friend from college. Offred is generally passive and compliant with the regime in Gilead, but Moira is blatantly defiant and independent, risking her life multiple times in order to escape. Although they exhibit very different character traits, both Offred and Moira must choose between resisting or conforming to the authoritarian commands of the government in order to avoid punishment.
In the novel's conclusion, Atwood denies readers a clear understanding of Offred's and Moira's ultimate fates and leaves unanswered readers' questions regarding the eventual destruction of the Republic of Gilead. The ambiguity of the conclusion suggests perhaps that how Offred and Moira responded to life in Gilead is more important than how their lives ended; it may also suggest that understanding how Gilead was destroyed is far less important than understanding the malign forces that created it.
About this Document
Our eNotes Lesson Plans have been developed to meet the demanding needs of today's educational environment. Each lesson incorporates collaborative activities with textual analysis, targeting on discrete learning objectives. We've aligned all of these lessons to particular Common Core standards, and we list the specific standard met by each lesson. The main components of each plan include the following:
An introduction to the text
A step-by-step guide to lesson procedure
Previous and following lesson synopses for preparation and extension ideas
A collection of handouts and worksheets complete with answer keys
Each of these lesson plans focuses on promoting meaningful interaction, analytical skills, and student-centered activities, drawing from the Common Core Standards for English Language Arts and the expertise of classroom teachers. Each lesson includes an instructional guide on how to present the material, engage students in an activity, and conclude the class.