Biography
(Great Authors of World Literature, Critical Edition)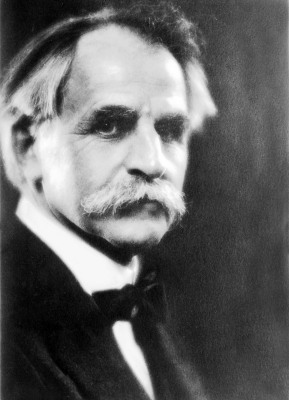 Hannibal Hamlin Garland was born on a farm near West Salem, in Wisconsin. When he was eight years old his family moved to the Iowa prairie, where he grew up in the hard rural life he described in his books. In 1881, after graduating from Cedar Valley Seminary in Osage, Iowa, he taught school for a year in Illinois before moving to Boston, where, penniless and unknown, he spent a winter reading in the public library. Here he first became acquainted with the writings of Henry George and Herbert Spencer, who gave him the ethical and social inspiration to accept the realities of the agricultural life.
A trip back to his father's Dakota farm in 1887 confirmed Garland in his desire to write about the life of the plains. With the encouragement of the writer Joseph Kirkland he began his first stories, which were printed in Century, Harper's Weekly, and Arena. After his writing had made him famous, Garland, in 1893, moved to Chicago, where he remained until 1916. He counted among his friends and acquaintances some of the prominent literary figures of the time, including William Dean Howells, Mark Twain, George Bernard Shaw, and Rudyard Kipling. In 1916 he moved to New York and in 1930 to Los Angeles, where he died ten years later.
Main-Travelled Roads, Garland's first collection of stories, belongs to the more important documents of American literary history. It is a conscientious record of the midwestern farmer's plight during the rapid growth of industrialization, presented in stories that are harsh and objective, aware of a vanishing pioneer dream and hopeless of the future. Prairie Folks, published in 1893, continued this theme of the "blight as well as the bloom of the frontier." In the essays collected in Crumbling Idols Garland moved from social to cultural awareness of the changes in Western life, expressing regret for its backwardness and suggesting the possibilities of drama in the development of towns and cities. He followed Whitman in advising the artist to tell the truth of the life he saw about him. Rose of Dutcher's Coolly, which many critics regard as his best novel, puts this idea into practice in the story of a talented girl who found poetry in savage Chicago. A Son of the Middle Border, the last of Garland's notable writings, is his autobiographical summation of the agrarian illusion he had seen dispelled. Many critics regard the sequels to this book, among them A Daughter of the Middle Border and Trail-Makers of the Middle Border, as lesser achievements than the earlier vision. Later in life Garland tried writing plays and wrote articles on psychic phenomena, as well as novels about cowboys and Indians, which were commercially successful but critically disregarded.
Biography
(Literary Essentials: Short Fiction Masterpieces)
Of Scotch-Irish descent, Hannibal Hamlin Garland moved with his family from Wisconsin, where he was born in West Salem on September 14, 1860, to an Iowa farm while still a child. Years spent on the farm made him seek escape through a career in oratory. To this end, he attended Cedar Valley Seminary from which he was graduated in 1881. He held a land claim in North Dakota for a year, but mortgaged it for the chance to go East and enroll in Boston University. He succeeded in getting to Boston but was unable to attend the university; however, he embarked on a self-directed program of reading in the holdings of the Boston Public Library. While in Boston, he began writing, his first attempts being lectures, then stories and books. It was around this time also that he joined the Anti-Poverty Society and became an active reformer. He read Henry George and embraced the Single Tax theory as a solution to some of the many contemporary social problems.
Donald Pizer, along with many scholars, divides Garland's career into three general phases: a period of political and social reform activity that coincides with his most memorable fiction set in the Middle West (1884-1895); a period of popular romance-writing in which his...
(The entire section is 1,214 words.)