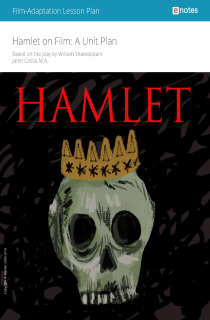 Hamlet on Film Lesson Plan
*This download is only available with the eNotes Teacher's Subscription
Purchase a Subscription






Excerpt From This Document
Through viewing Laurence Olivier's, Franco Zeffirelli's, and Kenneth Branagh's film versions of Shakespeare's Hamlet, students will see how one director interprets the text of the play.
Students will demonstrate the ability to criticize by developing and organizing their own reactions to convey information about the film. Students will also demonstrate the ability to write criticism effectively by expressing their personal ideas in a critical essay format.
About this Document
Lesson Plans for Films are currently available for four of Shakespeare's most popular plays: Hamlet, Othello, Macbeth, and Romeo and Juliet. Each lesson plan also includes an introductory unit on Shakespeare on Film.
These lesson plans are designed to be used in conjunction with the watching of a film version of the play. Each lesson plans covers 3-4 popular versions of the play. 
The author of these lesson plans, exclusive to eNotes, is Janet Costa, MA. Ms. Costa, while at the Shakespeare Institute, specialized in Shakespeare on film. Each lesson plan contains daily lessons, with discussion questions and answers, activities, and handouts.