H. G. Wells Biography
H. G. Wells' influence on the emerging field of science fiction is almost impossible to overstate. Trained in science and as a teacher, Herbert George Wells was also intensely political: he was a socialist, a radical, and a supporter of a planned world state. In his fiction, Wells often combined his pedagogical tendencies with his political concerns, but that in no way affected the creativity and high literary value of his sci-fi writing. Among his genre-defining works are a time travel novel (The Time Machine), a riveting classic about interplanetary warfare (War of the Worlds), and some genuinely creepy novels exploring the social implications of scientific exploration (The Invisible Man and The Island of Doctor Moreau).
Facts and Trivia
Wells is a sufficiently intriguing and romantic figure that he has appeared as a character in other people's stories many times. He's popped up in episodes of Lois and Clarke and Doctor Who, and he also provided the model for a character in C. S. Lewis' novel That Hideous Strength. If you look closely enough, you can even see his picture in one scene from the 2002 film version of The Time Machine.
Speaking of romantic figures, Wells was married twice and had numerous affairs throughout his life.
In 1938, Orson Welles directed a radio adaptation of Wells' The War of the Worlds. Many listeners took the broadcast as factual and thought Earth had actually been invaded by Martians.
In The Time Machine, Wells suggested that classes might actually evolve into different races. The working class became the Morlocks, a name that has been used in comic books (in Marvel's X-Men series) and music (there's a garage-punk band called The Morlocks).
Wells had no doubts about his talent, his intelligence, and his legacy. Here's what he thought his epitaph would have to be: "I told you so. You damned fools." (The italics, by the way, were Orwell's.)
Biography
(History of the World: The 20th Century)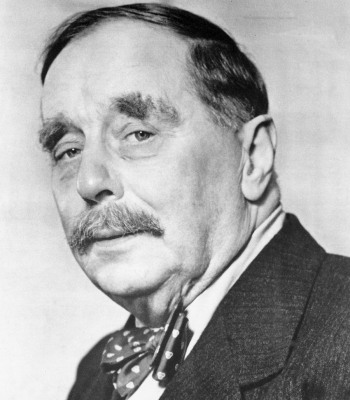 H. G. Wells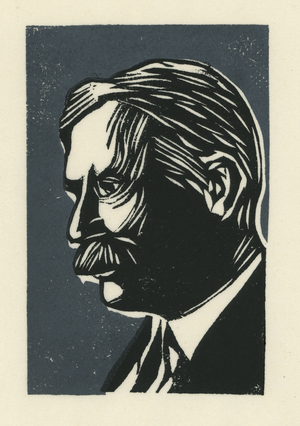 Article abstract:
Through his writings—both
fiction
and nonfiction—Wells became a significant shaper of liberal social thought in the first half of the twentieth century.
Early Life
Herbert George Wells was born into a family struggling to maintain its place in the lower middle class. His father, Joseph, owned a shop but made more money coaching and playing professional cricket. After an injury prevented Joseph from playing cricket, Sarah, Herbert's mother, worked as a maid and housekeeper. A working wife ended the family's claim to middle-class status. Wells made much of, perhaps exaggerated, his family's struggles, and his characters often struggled with the conflicts of social respectability, personal satisfaction, and happiness.
One of the family's middle-class gestures was to send Wells to a private school, which was socially preferable to state schools even when, as in this case, the instruction was wretched. In 1874 Wells entered Thomas Morley's Commercial Academy. He learned little, but books supplied by his father during a six-month convalescence with a broken leg and access to the library of the estate where his mother was housekeeper provided him with an extensive, if haphazard, accumulation of knowledge.
In the early 1880's, Sarah arranged several apprenticeships for her son, twice with drapers and once with a pharmacist. Although his reading continued (at times in preference to his apprenticeship work) and he learned something of science from the pharmacist, Wells ultimately rejected the hopelessness of a career as a clerk. Out of concern that her son have a respectable occupation and to avoid forfeiting the apprenticeship fee, Sarah resisted. Finally, after coercing his mother with hints of suicide, Wells left the draper's trade and entered, in 1883, Midhurst Grammar School as a teaching scholar. As Wells remembers this time, he was expected to do most of the teaching and win government-sponsored scholarships to bring distinction and money to...
(The entire section is 4,620 words.)