Other Literary Forms
(Literary Essentials: Short Fiction Masterpieces)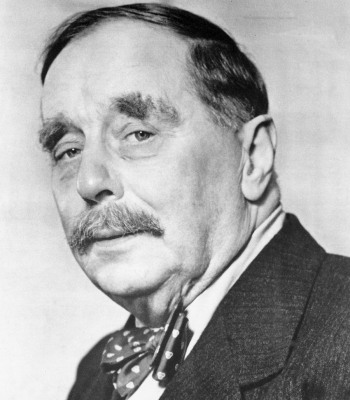 Beginning with The Time Machine: An Invention (1895) and ending with The War in the Air, and Particularly How Mr. Bert Smallways Fared While It Lasted (1908), H. G. Wells wrote nine fantastic, often futuristic novels, which he called scientific romances. Works like The Invisible Man: A Grotesque Romance (1897), The War of the Worlds (1898), and The First Men in the Moon (1901), which now fall under the rubric of science fiction, earned Wells the informal place that he shares with Jules Verne as a cofounder of that genre. Wells also wrote more than thirty realistic novels, of which the three most famous are Kipps: The Story of a Simple Soul (1905), Tono-Bungay (1908), and The History of Mr. Polly (1910). His fiction became increasingly speculative and utopian (or dystopian) after 1920. Wells, assisted by specialists, wrote three encyclopedic works devoted to the history of the universe, to biology, and to economics. The first, The Outline of History: Being a Plain History of Life and Mankind (1920), became a staple of home libraries throughout the world.
Achievements
(Literary Essentials: Short Fiction Masterpieces)
George Orwell declared that the twenty-five years between The Time Machine and The Outline of History should bear Wells's name. In fact, the reputation of H. G. Wells gave rise to a term, "Wellsian," whose mention conveys "the shape of things to come." Perhaps critic Walter Allen summed up best Wells's virtues and their defects:I still think [Wells] had the largest natural talent of any English writer of the century. He did not always use it well, but he was a positive cornucopia of ideas. Almost certainly he will look much greater in the future than he does now.
Wells anticipated the League of Nations with his World State and forecast the atom bomb thirty years before Hiroshima.
Other literary forms
(Survey of Novels and Novellas)
H. G. Wells's short stories appear in several collections, including The Stolen Bacillus, and Other Incidents (1895), Tales of Space and Time (1899), The Country of the Blind, and Other Stories (1911), and A Door in the Wall, and Other Stories (1911). In The Outline of History: Being a Plain History of Life and Mankind (1920) and Experiment in Autobiography: Discoveries and Conclusions of a Very Ordinary Brain Since 1866 (1934), Wells extended his literary range. His sociological essays include A Modern Utopia (1905) and Mind at the End of Its Tether (1945).
Achievements
(Survey of Novels and Novellas)
H. G. Wells is best known for his science-fiction novels, several of which have been adapted as popular films. A socialist and Fabian, he was a spokesman for women's rights and international peace movements, for which he wrote books of advocacy in essay and fictional form. Wells was also an effective novelist of social satire and comedy.
Discussion Topics
(Masterpieces of World Literature, Critical Edition)
To what extent were the early novels of H. G. Wells aimed at undermining the utopian works of such writers as Edward Bellamy and William Morris?
Does Wells make clear the distinction between the profession of science, which he admired, and its practitioners?
Is the social analysis in Tono-Bungay still effective a century after it was written?
Is the tone in Wells's novels often unnecessarily pedagogical?
Wells once wrote that he would rather be considered a journalist than an artist. What aspects of Wells's work seem more journalistic than artistic?
Bibliography
(Great Authors of World Literature, Critical Edition)
Batchelor, John. H. G. Wells. Cambridge, England: Cambridge University Press, 1985. An important examination of Wells's work. Includes an index and a bibliography.
Bates, H. E. The Modern Short Story. Boston: The Writer, Inc., 1941. Himself one of England's finest short-story writers, Bates accords high rank to Wells in the genre and rebuts charges that Wells's style lacks beauty. Calls Wells a "literary [Thomas] Edison."
Bergonzi, Bernard. The Early H. G. Wells: A Study of the Scientific Romances . Toronto: University of Toronto Press, 1961. Still the most knowledgeable account of the remarkable affinity of Wells's early fantasies, including his short stories, with the search for new worlds and behavior that characterized the turn of the century. Bergonzi,...
(The entire section is 1,510 words.)