Other Literary Forms
(Literary Essentials: Short Fiction Masterpieces)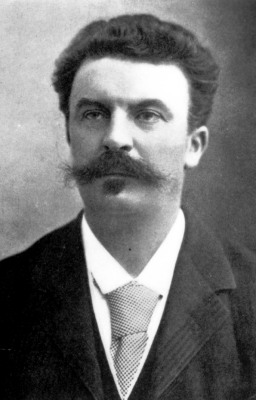 Although he became famous above all for his well-crafted short stories, Guy de Maupassant also wrote poems, plays, and three successful novels: Une Vie (1883; A Woman's Life, 1888), Bel-Ami (1885; English translation, 1889), and Pierre et Jean (1888; Pierre and Jean, 1890). His preface to Pierre and Jean has attracted a considerable amount of attention over the years because it reveals the profound influence that Gustave Flaubert exerted on Maupassant's development as a writer. Maupassant was not, however, a major literary theoretician, and many critics have agreed with Henry James's perceptive comment that Maupassant as a "philosopher in his composition is perceptibly inferior to the story-teller." Maupassant also wrote several volumes of fascinating letters to such eminent writers as Flaubert, Ivan Turgenev, andÉmile Zola.
Achievements
(Literary Essentials: Short Fiction Masterpieces)
Guy de Maupassant is generally considered to be the most significant French short-story writer. Unlike other important nineteenth century French prose writers such as Honoré de Balzac and Flaubert who are better known for their novels than for their short stories, Maupassant created an extensive corpus of short stories that reveals an aesthetically pleasing combination of wit, irony, social criticism, idealism, and psychological depth. Although his short stories deal with readily identifiable situations and character types in France during the 1870's and 1880's, they explore universal themes such as the horrors of war and the fear of death, hypocrisy, the search for happiness, the exploitation of women, and contrasts between appearance and reality. His characters illustrate the extraordinary diversity in modern society, from prostitutes to adulterous husbands and wives and from peasants to aristocrats. Even during his lifetime, his short stories were appreciated both within and beyond the borders of France. He had the special ability of conveying to readers the universal elements in everyday situations. He used wit and an understated style in order to create aesthetically pleasing dialogues. His work exerted a profound influence on many major short-story writers, including Thomas Mann, Katherine Mansfield, and Luigi Pirandello.
Contribution
(Masterpieces of Fiction, Detective and Mystery Edition)
Between 1880 and 1890, Guy de Maupassant published more than three hundred short stories in a variety of modes, including the supernatural legend, the surprise-ending tale, and the realistic story. Although he is best known for such surprise-ending tales as "La Parue" ("The Necklace") and is most respected for such affecting realistic stories as "Boule de suif," literally "ball of fat," Maupassant also contributed to the sophistication of the traditional horror story by pushing it even further than did Edgar Allan Poe into the modern realm of psychological obsession and madness.
Discussion Topics
(Masterpieces of World Literature, Critical Edition)
Are the endings of many Guy de Maupassant stories genuine surprises? Should the ending of a short story be a surprise?
Why do Americans have so much more difficulty responding favorably to a story like "Madame Tellier's House" than do French readers?
What makes the denouement of "The Necklace" anticlimactic?
Is the narrator of "The Horla" unreliable? Is this story told the only way it could be told?
Explain why the short story is or is not "a respectable literary genre."
Style and Technique
(Comprehensive Guide to Short Stories, Critical Edition)
The remarks on style quoted earlier reflect the author's attitude toward his own writing. His story is like an icon painted with perfect phrases.
In describing the stairway of the Bendersky mansion, Babel writes: "On the landings, upon their hind legs, stood plush bears. Crystal lamps burned in their open mouths." Avoiding all authorial commentary, Babel gives the reader in seventeen words a perfect description of nouveau-riche bad taste. (The word for this in Russian is poshlost'; in German, kitsch.) Babel's effectiveness as a writer owes much to his laconism and detachment.
The author's treatment of the sexual theme is enhanced by...
(The entire section is 1,393 words.)