At a Glance
Guy de Maupassant's work is often celebrated for its economy, which is unsurprising given the author's short life (1850–1893). However, this praise applies more to the form and structure of his stories than his truncated career. Many cite de Maupassant as one of the progenitors of the modern short story. Much of his work is celebrated for its ability to create time, place, and character in succinct but rich detail. While he is best remembered for his piquant short fiction and clever novels (many of which feature war as a prominent theme), de Maupassant also wrote a tome of poetry as well as extensive travelogues. His travels throughout the continent affected both his fiction and nonfiction writing, marking de Maupassant as a true Renaissance man.
Facts and Trivia
As a young man, de Maupassant met Flaubert, author of Madame Bovary. Flaubert's influence was crucial to de Maupassant's development as a writer.
Early in his career, as de Maupassant began developing his own novels and short stories, he worked as a journalist for several prominent newspapers.
Far from lighthearted, many of his short stories are detective or mystery tales that explore psychoses and psychological horrors.
The impact of de Maupassant's career is extensive, with O. Henry and W. Somerset Maugham among the many later authors who were influenced by his work.
Maupassant died prematurely at the age of 43. His last years were marked by a slow decline from syphilis, from which he suffered for many years.
Biography
(History of the World: The 19th Century)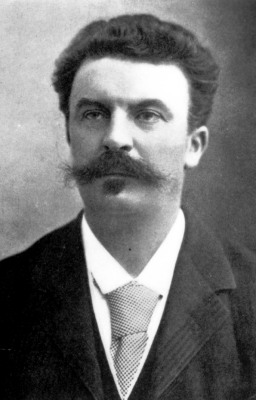 Article abstract: Maupassant was one of the major literary figures at the end of the nineteenth century to help move short fiction away from the primitive folktale form to the short story of psychological realism. His most significant contributions to the form may be found in such affecting realistic stories as "Boule de Suif" and such powerful tales of psychological obsession as "The Horla."
Early Life
Henri-René-Albert-Guy de Maupassant was born on August 5, 1850. He was the first son of Laure Le Poittevin and Gustave de Maupassant, both from prosperous bourgeois families. When Maupassant was eleven and his brother Hervé was five, his mother, an independent-minded woman, risked social disgrace to obtain a legal separation from her husband. With the father's absence, Maupassant's mother became the most influential figure in the young boy's life.
At age thirteen, he was sent to a small seminary near Rouen for classical studies, but he found the place unbearably dreary and yearned for home, finally getting himself expelled in his next-to-last year. He returned home to the influence of his mother, as well as her brilliant brother Alfred and his student and friend Gustave Flaubert. At age eighteen, Maupassant was enrolled at the Lycée de Rouen, and he began law studies soon afterward in Paris, only to have these studies interrupted by the Franco-Prussian War, for which he enlisted. After the...
(The entire section is 3,730 words.)