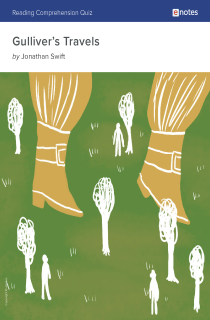 Gulliver's Travels Reading Comprehension Quiz
*This download is only available with the eNotes Teacher's Subscription
Purchase a Subscription






45 pages
Language Arts,
Literature
For:
Grade 9
Grade 10
Grade 11
Grade 12
Excerpt From This Document
This quiz contains reading comprehension questions for Gulliver's Travels.
About this Document
Our eNotes Reading Comprehension Quizzes have been designed to provide students with more than a simple review of the text. Each is meant to check that students have comprehended the text and are prepared to discuss it. Each quiz contains the following:
Reading comprehension questions covering each chapter or manageable ranges of chapters
A comprehensive answer key
In completing these quizzes, students will be able to demonstrate their understanding of the assigned reading.