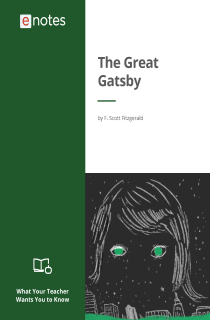 What Your Teacher Wants You To Know About The Great Gatsby
*This download is only available with the eNotes Teacher's Subscription
Purchase a Subscription






For:
Grade 9
Grade 10
Grade 11
Grade 12
Excerpt From This Document
The first in a new series of comprehensive study guides, "What Your Teacher Wants You To Know About The Great Gatsby" is an in-depth study guide that answers the questions students most often ask about the book, including, "Why did Daisy cry over Gatsby's shirts?" This study guide features:
Answers to nearly 100 of the most commonly asked questions about The Great Gatsby
In-depth analyses of literary devices
Compare/contrast sections about the main characters
Custom illustrations in a vibrant Art Deco style
Fun facts to enhance the learning experience
This new study guide makes complicated information readable, accessible, and fun, and pairs well with our eNotes original infographic series on The Great Gatsby.
About this Document
Our eNotes original series "What Your Teacher Wants You To Know" is a series of new study guides designed to answer the questions students most often ask about great works of literature. Each study guide includes original content that guides students through their reading, helping them analyze the setting, character development, and literary devices of specific works. Featuring elegant design and custom illustrations, our original study guides are comprehensive tools that can be used both in and outside of the classroom.