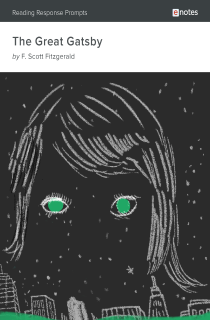 The Great Gatsby eNotes Reading Response Prompts
*This download is only available with the eNotes Teacher's Subscription
Purchase a Subscription





21 pages
Language Arts,
Literature
For:
Grade 9
Grade 10
Grade 11
Grade 12
Excerpt From This Document
Sample Prompts: 
While the narrator was in college, people often shared their secrets with him because they knew he was not judgmental. Do you think finding fault with someone else's behavior is generally good or bad? Are there circumstances when we should judge someone else's behavior and reject it? If so, write about some types of behavior that should be condemned.
After explaining that he is not a judgmental person, the narrator says there are limits to his tolerance: "Conduct may be founded on the hard rock or the wet marshes but after a certain point I don't care what it's founded on." How would conduct founded on "hard rock" differ from conduct founded on "wet marshes"? Discuss what you think the passage implies about the narrator's state of mind?
About this Document
These eNotes Reading Response Prompts are designed to encourage your students to read more effectively and with more pleasure by giving them interesting subjects to write about after they have read. Many of the prompts will take them directly into the text, while others will give them an opportunity to express their thoughts and feelings and to reflect on their own experiences.
A second purpose of the eNotes Reading Response Prompts is to facilitate instruction in ways that work for you in the classroom. The organization of the prompts makes them easy to use, and the content and construction of the prompts are designed to develop students' knowledge and academic skills.