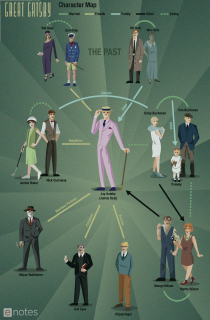 The Great Gatsby eNotes Character Map Infographic
Download PDF

For:
Grade 9
Grade 10
Grade 11
Grade 12
Excerpt From This Document
The Great Gatsby is widely considered one of the best novels of the Twentieth Century. Its vivid characters and memorable storyline have been captivating readers for decades. This character map delineates the major relationships in the novel and uses stunning images to portray the styles, fashions, and artistic sensibilities of the Roaring Twenties.
About this Document
eNotes Teaching Supplements are designed to enhance the classroom experience with visual aids and other tools that keep students engaged and make learning fun. Each Teaching Supplement includes information that students need to learn and presents it in a new, exciting way that makes it feel fresh and interesting for students. Some examples of Teaching Supplements include: infographics, cartoons, flashcards, podcasts, videos, and more.