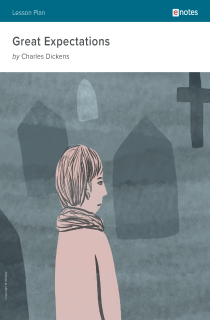 Great Expectations eNotes Lesson Plan
*This download is only available with the eNotes Teacher's Subscription
Purchase a Subscription






85 pages
Language Arts,
Literature
For:
Grade 9
Grade 10
Grade 11
Grade 12
Excerpt From This Document
Learning Objectives: 
By the end of this unit, students should be able to
Describe Pip's friendships with Joe, Herbert, Wemmick, and Magwitch;
Identify the ways conscience and shame influence Pip's decisions;
Explain the significance of crime and punishment in Pip's narrative;
Describe Miss Havisham and her house;
Identify Miss Havisham's influence on Estella;
Compare the influence of unrequited love on the lives of Pip and Miss Havisham;

 

Explain how Miss Havisham, Magwitch, and Pip are morally redeemed;
Describe the novel's settings and their significance in Pip's moral journey;
Describe the novel's elements of suspense, and explain how they are resolved.

 
Introductory Lecture: 
Great Expectations is among the last novels written by Charles Dickens, the most famous and widely read English author of the Victorian era (1837–1901). Dickens released the novel as a series of weekly segments of two chapters each, and he considered the work to be among his best. At the time of the serial publication of Great Expectations in 1860–1861, Dickens's writing already drew a large popular following. Readers eagerly awaited the story's suspenseful installments published in the author's own literary magazine, All the Year Round, and in Harper's Weekly, an American magazine.
The novel is narrated by the character Pip and tells the story of his coming of age. A young orphan, Pip seeks to become a gentleman to win the heart of the beautiful but cold-hearted Estella. With the help of a surprise fortune bestowed by a mysterious benefactor, Pip travels from his country home to London, distancing himself from the coarse upbringing of which Estella has made him ashamed.
The original ending of Great Expectations gives Pip and Estella a subdued final meeting that leaves no possibility of future romance between them. After the novel's initial serial publication, Dickens revised the ending on the advice of his friend, novelist Sir Edward Bulwer-Lytton, who felt it would be a disappointment for readers. The second ending, which appears in modern editions of the novel, is ambiguously hopeful about a romantic future for a humbled Pip and a softened Estella. Some scholars argue that the original conclusion remains truer to the novel's theme of hopes raised and then disappointed; critics who like the revised ending find it more powerfully written. Dickens preferred his revision, stating in a letter, "I have put in as pretty a little piece of writing as I could, and I have no doubt that the story will be more acceptable through the alteration."
The vivid characters of Great Expectations have helped it endure as one of the most popular novels of a still-beloved author. Dickens deftly conveys Pip's guilt and yearning, Joe's jolly fidelity, Estella's brittle contempt, Mr. Jaggers's oppressive air of incrimination, and Wemmick's two faces. Perhaps the most memorable character in the novel is the reclusive Miss Havisham, who invites working-class Pip to her grand but decaying home for her idle entertainment. Spite has desecrated Miss Havisham's soul, and her rotting surroundings echo her internal ruin. A living ghost in a yellowing wedding dress, Miss Havisham represents a lasting literary portrait of the perils of bitterness.
In addition to striking characters and a page-turning narrative, Dickens uses Pip's story to explore themes that were important to him throughout his life. As a child, Dickens worked in a factory and lived on his own for a brief period while his father was confined in a debtors' prison. In his adulthood as a successful writer, he claimed to still suffer nightmares of childhood hunger and loneliness. Memories of these struggles informed his social activism and writing on the issues of his time. Among the author's favorite causes was reforming prisons and schools; he conveys the need for both in Pip's story. These themes and the others of Great Expectations—wealth and social mobility, crime and punishment, loyalty, love, forgiveness, and the fears and dreams of childhood—are universal to human society. Great Expectations achieves its status as an enduring classic thanks to Dickens's ability to embed these deeply felt social concerns into a story that is at turns moving, comic, and riveting in its gloomy suspense. 
About this Document
Our eNotes Comprehensive Lesson Plans have been written, tested, and approved by active classroom teachers. Each plan takes students through a text section by section, glossing important vocabulary and encouraging active reading. Each is designed to bring students to a greater understanding of the language, plot, characters, and themes of the text. The main components of each plan are the following:
An in-depth introductory lecture
Discussion questions
Vocabulary lists
Section-by-section comprehension questions
A multiple-choice test
Essay questions
Each plan is divided into a teacher and a student edition. The teacher edition provides complete answer keys for all sections, including example answers for the essay questions.