Introduction
(Drama for Students)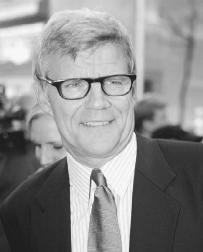 Themes of mortality, family relationships, marriage, and generations all play out at Norman and Ethel Thayer's small lake house in Maine beside Golden Pond. Ernest Thompson's On Golden Pond has been embraced by theatergoers since its first off-Broadway run in 1978 and by moviegoers since its 1981 adaptation. The play's believable characters are engaging and flawed, and the curmudgeonly Norman Thayer achieves personal growth despite his advanced age and slow mental decline. The play has successfully played onscreen (adapted by Thompson himself) and stage, with a white cast and a black cast (in 2005's Broadway revival). By all accounts, the play seems to have universal appeal.
Thompson wrote On Golden Pond at the age of twenty-eight. While he had been able to support himself as a working actor, he had gone a year without landing any work. This dry spell allowed him to pursue his interest in writing. Although he cannot say exactly what inspired the play, he credits his boyhood summer lake trips to Maine with his family as a source of special memories. Through a series of lucky opportunities, On Golden Pond was produced off Broadway in 1978. It was published the following year by Dramatists Play Service. Within six months, the play was in production on Broadway and soon in theaters across the United States. It was Thompson's first play to be produced. The film version earned him an Academy Award and opened numerous career doors for the young playwright. Thompson continues to write plays and television scripts as of 2005, but his reputation rests largely on the success of On Golden Pond.
Summary
(Drama for Students)
Act 1, Scene 1
On Golden Pond opens in May with Norman and Ethel Thayer returning to their lake house in Maine. Norman is content to sit and read a book, but Ethel is busily moving furniture back in place, dusting, and generally getting the house ready for their summer stay. Through their conversations, the audience learns that they have been married a long time, love each other very much, and have different dispositions. They will be celebrating Norman's eightieth birthday, and he makes frequent jokes about his own mortality. Ethel is not amused, not so much because it upsets her as because she refuses to allow her husband to act like a victim.
Act 1, Scene 2
It is now June, and as she putters around the house, Ethel tries to give Norman updates about their neighbors. While she is very interested in the lives of her casual friends, Norman does not care enough to remember most of their names. He is more interested in reading the local wants ads in search of an easy part-time job. This seems to be more of a fun exercise for him than an actual job search. Later, Charlie stops by with the mail. He is a local man in his forties who has known the Thayers for many years. He asks about the Thayers' daughter, Chelsea, who is only a few years younger than he is. Their conversation reveals that he still harbors feelings for Chelsea.
In the mail, Ethel receives a letter from Chelsea, letting Ethel know that she will be visiting them for Norman's birthday. She will bring her new boyfriend, a dentist named Bill Ray. Norman responds with his usual sarcasm, but the audience can tell that there is a rift between him and his daughter.
Norman is also having bouts of memory loss, a reality he struggles to accept. Ethel sends him to pick strawberries, but when he returns early with an empty basket, he confesses that he did not know where the road was. It was a road nearby, and they had been to it numerous times over the years. His fears about his mental decline are exposed, and Ethel responds with compassion and reassurance.
Act 1, Scene 3
It is now July, and Chelsea arrives for her father's birthday. She brings her boyfriend and his thirteen-year-old son, Billy Ray. The unexpected arrival of the teenager delights Ethel, but Norman is initially unimpressed. After Billy has a tour of the house, Bill enters with the luggage and meets Ethel and Norman. Not...
(The entire section is 1,295 words.)