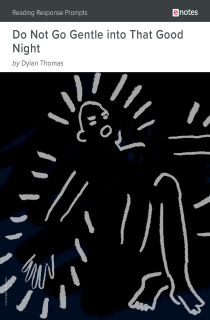 Do Not Go Gentle into That Good Night eNotes Reading Response Prompts
*This download is only available with the eNotes Teacher's Subscription
Purchase a Subscription





10 pages
Language Arts,
Literature
For:
Grade 9
Grade 10
Grade 11
Grade 12
Excerpt From This Document
What three metaphors for death are found in the stanza? How do they associate death with darkness?
Based on the first stanza, how does Thomas seem to feel about his father? Why do you think so?
How do you view death? When people reach the end of their lives, should they accept that they are dying, or should they hold on to life as long as possible? Why do you think so?
Describe how the sun appears to move in the sky each day. What does the sun's being "in flight" suggest about the passage of time?
Thomas speaks of "grave men" who are "near death." Describe how the word "grave" can be interpreted as having a double meaning.
Explain how the six stanzas of the poem are organized in a three-part structure of introduction, argument, and conclusion. What is the main idea in the introduction and in the conclusion? Which stanzas make up the poem's argument?
About this Document
These eNotes Reading Response Prompts are designed to encourage your students to read more effectively and with more pleasure by giving them interesting subjects to write about after they have read. Many of the prompts will take them directly into the text, while others will give them an opportunity to express their thoughts and feelings and to reflect on their own experiences.
A second purpose of the eNotes Reading Response Prompts is to facilitate instruction in ways that work for you in the classroom. The organization of the prompts makes them easy to use, and the content and construction of the prompts are designed to develop students' knowledge and academic skills.