Other Literary Forms
(Literary Essentials: Short Fiction Masterpieces)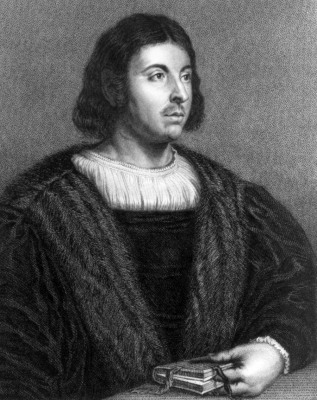 Although Giovanni Boccaccio's greatest work is the masterfully framed collection of one hundred Italian short stories known as The Decameron, he also left a large and significant corpus of poetry. His earliest poetry, written in Naples, is in Italian and includes the Rime (c. 1330-1340; poems), which comprises more than one hundred lyrics, mostly sonnets and not all of sure attribution. These short poems are largely dedicated to the poet's beloved Fiammetta, who is identified in some of Boccaccio's pseudoautobiographical writings as Maria d'Aquino; supposedly, she was the illegitimate daughter of King Robert of Naples, but more probably she was the invention of the poet. Similarly, the longer poem La caccia di Diana (c. 1334; Diana's hunt), Il filostrato (c. 1335; The Filostrato, 1873), Il filocolo (c. 1336; Labor of Love, 1566), and Teseida (1340-1341; The Book of Theseus, 1974) are all poems ostensibly inspired by Boccaccio's ardor for Fiammetta, whose name means "little flame." Other poems that were composed in the 1340's also treat the formidable power of love and include the Commedia delle ninfe, entitled Il ninfale d'Ameto by fifteenth century copyists (1341-1342; the comedy of the nymphs of Florence), L'amorosa visione (1342-1343; English translation, 1986), Elegia di Madonna Fiammetta (1343-1344; Amorous Fiammetta, 1587), and Il ninfale fiesolano (1344-1346; The Nymph of Fiesole, 1597).
Achievements
(Literary Essentials: Short Fiction Masterpieces)
Giovanni Boccaccio created many literary firsts in Italian letters. He is often credited, for example, with the first Italian hunting poem (La caccia di Diana), the first Italian verse romance by a nonminstrel (The Filostrato), the first Italian prose romance (Labor of Love), and the first Italian idyll (The Nymph of Fiesole). Many scholars also regard Boccaccio as the greatest narrator Europe has produced. Such high esteem for the Tuscan author assuredly arises from his masterpiece, The Decameron, which has provided a model or source material for many notable European and English authors, from Marguerite de Navarre and Lope de Vega Carpio to Gotthold Ephraim Lessing and Alfred, Lord Tennyson. Even if Boccaccio had never composed his magnum opus, however, he would still enjoy significant acclaim in European literary history for his presumedly minor writings. For example, many consider his Amorous Fiammetta to be the first modern (that is, postclassical) psychological novel. Certainly his Il ninfale d'Ameto anticipates Renaissance bucolic literature. Contemporary medieval authors also looked to Boccaccio for inspiration. In The Filostrato, Geoffrey Chaucer found ample material for his Troilus and Criseyde (1382), and in The Book of Theseus Chaucer discovered the source for "The Knight's Tale." Boccaccio's encyclopedic works in Latin resulted in his being regarded as one of the most prominent Trecento humanists. Indeed, it was as a Latin humanist, rather than as a raconteur of vernacular tales, that Boccaccio was primarily remembered during the first century following his demise.
Discussion Topics
(Masterpieces of World Literature, Critical Edition)
Define "visceral realism" in The Savage Detectives. Is it a literary movement, a way of life, a fraud, an affectation, or a mixture of these?
Roberto Bolaño's novels frequently have a central mystery or shadowy character that appears to motivate the plot, but they are never themselves completely elucidated. Why?
Bolaño employs multiple points of view and narrative voices in some of his novels. Discuss how this technique builds suspense in The Savage Detectives. Does it lead to a resolution?
Is Father Urrutia's attitude toward literature in By Night in Chile similar to Bolaño's?
What details in Nazi Literature in the Americas suggest that it is fiction instead of a reference work? Discuss their effect, such as humor, satire, and political or literary critique, among others.
Other literary forms
(European Poets and Poetry)
Although Giovanni Boccaccio (boh-KOCH-ee-oh) was an excellent poet, his long-lived literary reputation is founded on his prose...
(The entire section is 1,680 words.)