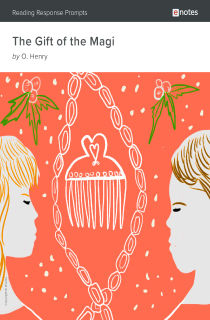 The Gift of the Magi eNotes Reading Response Prompts
*This download is only available with the eNotes Teacher's Subscription
Purchase a Subscription






8 pages
For:
Grade 7
Grade 8
Grade 9
Grade 10
Excerpt From This Document
"The Gift of the Magi" begins with a discussion of money. How much money has Della saved? How did she manage to save it? Explain why Della's efforts to save money made her feel embarrassed.
What is Jim's most valuable possession? How does the narrator emphasize its value through a humorous comparison?
Who is Madame Sofronie? Based on her name, how might readers expect Madame to look and to speak? Describe how her actual speech and appearance surprise readers.
O. Henry's short stories are noted for surprise endings that are often ironic. What surprise does he save for the end of this story? Explain why it is ironic.
Authorial intrusion is a literary device sometimes found in narrative writing; the author "intrudes" in the story by stepping away from the action and speaking directly to the reader. What are some examples of authorial intrusion in "The Gift of the Magi"? What do they contribute to the narrative?
About this Document
These eNotes Reading Response Prompts are designed to encourage your students to read more effectively and with more pleasure by giving them interesting subjects to write about after they have read. Many of the prompts will take them directly into the text, while others will give them an opportunity to express their thoughts and feelings and to reflect on their own experiences.
A second purpose of the eNotes Reading Response Prompts is to facilitate instruction in ways that work for you in the classroom. The organization of the prompts makes them easy to use, and the content and construction of the prompts are designed to develop students' knowledge and academic skills.