Gertrude Stein Biography
Gertrude Stein was the inimitable writer at the forefront of literary modernism in the early 20th century. Although she was an American, ideological and artistic differences with her home country compelled the author to move to France. Further solidifying Stein as an iconoclast was her nearly lifelong relationship with her companion and secretary, Alice B. Toklas. Stylistically, Stein wrote in a stream-of-consciousness manner, a method that attempts to present thoughts as they occur in an uncensored fashion. Poet Judy Grahn has identified six principles at play in one combination or another in Stein's work: commonality, essence, the "continuous present," value, play, and transformation. Stein's most famous and successful work is The Autobiography of Alice B. Toklas, in which Stein tried to exactly represent the thoughts and feelings of her companion.
Facts and Trivia
Many famous authors of the twentieth century revered Stein as one of the most original and thought-provoking writers in history. Among her admirers and friends were Ernest Hemingway, Ezra Pound, Sherwood Anderson, and Thornton Wilder.
What is so unique about Stein's stream-of-consciousness writing style? Here is an example from her book The Making of Americans: "Americans are very friendly and very suspicious, that is what Americans are and that is what always upsets the foreigner, who deals with them, they are so friendly how can they be so suspicious they are so suspicious how can they be so friendly but they just are."
During World War I, Stein and Toklas learned how to drive and risked their own lives delivering medical supplies to French hospitals.
In 1934, Stein raised a ruckus when someone misinterpreted her sarcastic comments in the New York Times about Hitler: "I say that Hitler ought to have the (Nobel) peace prize, because he is removing all the elements of contest and of struggle from Germany....By suppressing Jews...he was ending struggle in Germany."
Stein often had a wry sense of humor. For example, she once said, "I do want to get rich, but I never want to do what there is to do to get rich."
Biography
(History of the World: The 20th Century)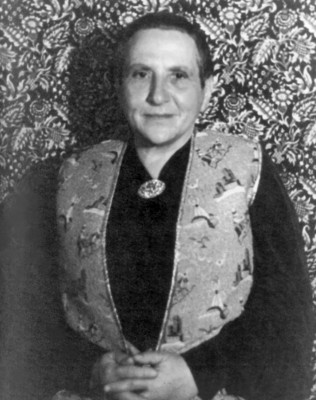 Article abstract: A literary innovator, Gertrude Stein captured the dialogue of common people and significantly influenced the writing of post-World War I authors.
Early Life
Born into an affluent family that traded in imported fabrics, Gertrude Stein was the last child of Daniel and Amelia Stein, who vowed to have five children. Gertrude recommended being the youngest child in the family, contending that it saved one considerable bother.
Daniel Stein, having quarreled with his brother and business partner Solomon, took his family to Vienna in 1875, remaining abroad until Gertrude was five. She grew up fluent in French and German as well as English.
In 1880, the Steins moved to Oakland, California, where Gertrude grew up. In 1888, Amelia Stein died, followed by Daniel in 1891. Gertrude's brother Michael became her legal guardian. Her brother Leo, then nineteen, transferred from the University of California at Berkeley to Harvard. Gertrude followed as soon as she could, entering Radcliffe College (then known as "Harvard Annex") in 1893 as a special student because she failed the entrance examination.
At Radcliffe, Gertrude studied philosophy and psychology with Harvard professor William James, becoming his star student. She received the bachelor's degree magna cum laude in 1898. Returning to Baltimore, where much of her family lived, Stein began a medical degree at The Johns Hopkins University in 1897, continuing her studies until 1901, whereupon, although she had succeeded during her first three years as a medical student, she lost interest, failed courses, and left school a few months short of receiving the M.D.
Gertrude Stein's life took its most significant turn in 1903, when she went to Paris. There she fell in with the sisters Etta and Claribell Cone, textile heiresses who...
(The entire section is 3,452 words.)